Kellie Falbo – Founder
Kellie Falbo is the founder of the Sustainable Living Association, a nonprofit organization dedicated to educating people and communities in the Rocky Mountain region to make healthy, sustainable choices.
Through fifteen years of endurance and commitment, she has led the organization and the Sustainable Living Fair into mainstream culture. During this time, her natural interests in creating a balanced world between human development, our respect for the environment and social responsibility have become her professional journey.  Recipient of a 2007 e-chievement Award from etown, Falbo has been on the forefront of the sustainability movement in Colorado for the last decade.
Kellie serves as a volunteer Emergency Medical Technician and Fire Fighter in her rural community and teaches CPR and wilderness first aid in her off time.
Board of Directors
Jacob Castillo – Panda Bicycles
President
Jacob has been a resident of Fort Collins since 1997, when he moved to Colorado to attend Colorado State University. While at CSU, Jacob received three undergraduate degrees in Agricultural Business, Foreign Language and Literature, and Economics. Following undergraduate studies Jacob began his professional career in economic development, where he served as the Vice President of the Northern Colorado Economic Development Corporation. After a successful career in the professional world, Jacob went back to school to pursue a double masters in the Global Social and Sustainable Enterprise Program and Agricultural & Resource Economics. While in grad school Jacob founded a company called PowerMundo, which was called one of six ideas that will change world, according to CNN/Money. Jacob has also served on many advisory boards throughout northern Colorado. He currently serves as the head honcho at Panda Bicycles, a leading edge bamboo bike building company, headquarted in Fort Collins. In addition to entrepreneurial endeavors, Jacob is also co-authoring a text book on sustainable venturing and teaches a class on Global Sustainability at CSU.
---
Matt Fater – City of Fort Collins Utilities
Vice President
Matt works for Fort Collins Utilities where he is responsible for managing the design and construction of water, wastewater, and stormwater infrastructure projects. He has been a part of the Fort Collins community since 1993 when he moved to Fort Collins to attend Colorado State University, earning a BS and MS in Civil Engineering.
He is passionate about his work as an engineer because he believes basic water services are essential to a sustainable community. His primary interests are working to find sustainable solutions to the issues of stormwater management and ageing water and wastewater infrastructure. He has been a member of Fort Collins Utilities' "Core Sustainability Team" since 2008 working to develop a culture of sustainability within the organization. Outside of work, Matt enjoys bicycling, gardening, raising chickens and pressing apple cider with his neighbors.
---
Adam D'Antonio – Odell Brewing Company
Secretary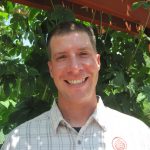 Adam D'Antonio is the Marketing, Events and Competitions Specialist at Odell Brewing Company, where he has held several positions in his 8 years at the brewery. In his current role, Adam manages logistics for the various festivals, events, and competitions in which the brewery participates. As a lead member on the Odell Sustainability Committee, he helps to oversee and enact their Zero-Landfill program and water-use reduction initiatives. Adam is passionate about his work at Odell Brewing, introducing sustainable practices to all the events he spearheads, and striving to reduce the impact on the earth that comes with large-scale festivals.
Adam relocated to Fort Collins from Pennsylvania in 2004 after completing his BA in History from Pennsylvania State University. Through his roles at Odell Brewing and, previously, at the City of Fort Collins Parks Department, Adam has been an active member of the Fort Collins community. He has volunteered for the United Way of Larimer County, Habitat for Humanity, and the Wildlands Restoration Volunteers. Adam also serves on the Board of Directors for the Fort Collins Downtown Business Association. Outside of his professional career and volunteer work, Adam enjoys spending time with his wife Kate and their young daughter Ellie, appreciating all Colorado has to offer—especially fly-fishing, skiing, camping, hiking, and gardening.
---
Lindsay Ex – City of Fort Collins
Treasurer
Melissa Gugelman
Member at Large
Melissa has been a resident of Fort Collins since 1998 and has fallen in love with this progressive, lively community. After graduating Melissa worked for various publishing companies in digital marketing and currently works for Otter Products as a Web Marketing Analyst.
Melissa has a passion for sustainability and for preserving the planet for generations to come. After being involved with the SLA's Steering Committee, a lively bunch that plans and coordinates the Sustainable Living Fair, she joined the board in February 2015. Outside of work, Melissa enjoys spending time with her daughter Samantha and husband Chris. She is an avid seamstress, quilter, baker and gardener.  Connect with Mel on Linkedin.
Lucas Erickson – Zero Hero Events
---
Advisory Council
Charisse Bowen
CSU Institute for Entrepreneurship
Dani Grant
Mishawaka Amphitheater & SpokesBuzz
Judy Dorsey
The Brendle Group
Emily Elmore
The Group Real Estate
Stuart Conway
Trees, Water & People
Doug Odell
Odell Brewing Company
Lucinda Smith
City of Fort Collins Natural Resources
Jenn Orgolini
New Belgium Brewing Company
John Long
The Atmosphere Conservancy
Katy Bigner
City of Fort Collins Utilities
Bryan Kallenberger
OtterBox
Jodie Riesenberger
National Parks Conservation Association
Jen Allen
New Belgium Brewing
Lara Williams
Green Team Real Estate
Dan Tweeton
Verde
Marci Peterson
New Belgium Brewing
Morgan DeFort
CSU Engines and Energy Labs
Hillary Mizia
New Belgium Brewing
Jamie Grim
Jared Polis' Office