Holler!ween XVI – October 19th & 20th, 2018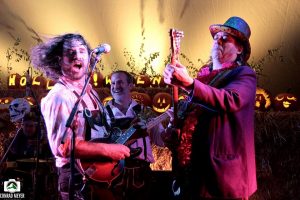 A celebration of our musical community hosted by Michael Kirkpatrick and the Sustainable Living Association.  A call to the wild, a pause for a much needed ecstatic celebration with our friends and family. Community. Novelty. Intent.
Holler!ween XVI takes place on a beautiful farm located at the base of the Poudre Canyon and includes 2 days, 2 tents and 20+ bands!
Tickets go on sale September 1st.  Your ticket includes camping and your first beer, please bring 2 or more non-perishable food items for the Food Bank.
Similar to the past 7 years, our stages will be in "a heated indoor environment" big enough for all of us, but remember, this is essentially an outdoor experience and it can get cold on the high plains in October.
AS ALWAYS
21+ only
Go with a Guide if this is your first!
Bring your own cup or be prepared to pay for a one!
Respect the land and each other, leave no trace.
Camping is encouraged (music and community fire goes late). Pack it in, pack it out. No individual fires allowed.
Costumes are REQUIRED Remember this is an outdoor event so dress appropriately.
NO DOGS in the music tent/corral.
CASH ONLY at the Main Gate.
Doors at 6pm, music at 7pm, on FRIDAY. Doors at 1pm, music at 2pm on SATURDAY. You may come early on Friday to set up camp or any time Saturday.