10 Eco-Friendly Activities for Single Parents and Kids: Exploring Nature and the Outdoors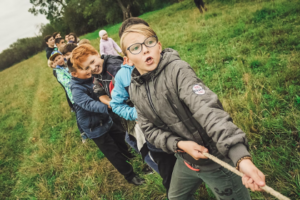 Being a single parent is tricky because sometimes, in your efforts to provide for your kids, you neglect to do activities to bond with them. However, if you take the time to schedule bonding with them, it will strengthen your connection.
With that said, if you're an eco-friendly person and want your kids to share the same values, then introducing them to nature and the outdoors can be a great bonding activity for you all. If you want that, here are ten sustainable activities that any single parent with their kids can do.
1. Nature Scavenger Hunt
Nature scavenger hunts are a fun and engaging activity that encourages children to explore their environment. They also allow them to learn more about the world around them. It can be as simple as walking with your child and looking for items you can find in the wild. It can also be as complicated as creating an elaborate game of hide-and-seek using items found in nature.
This hunt is a great chance to discover your local hiking trails if you don't want to go too far. It's simple to organize, but it requires some knowledge about local flora and fauna, so consider making it fun by creating scavenger hunt lists that they can cross off.
2. Eco-Friendly Crafting with Natural Materials
Sustainable crafting is an excellent way for single parents and kids to bond, especially when you have kids that have creative tendencies. It allows them to spend time together and create something lasting for years. It also helps them learn about nature and what it takes for the planet to stay healthy and thriving.
Using natural materials is another significant aspect of sustainable crafting because it encourages kids to connect with nature. At the same time, the feeling of satisfaction after making something from raw materials yourself is something your kids will learn about.
3. Hiking or Walking in Local Parks or Nature Trails
Nature has a way of making us feel alive and helps us connect with the world around us. It also promotes creativity in children and teaches them to be more mindful and responsible, which is vital in today's society.
There are many benefits of hiking or walking, but the most important ones are that it's free, accessible, safe, and doable anywhere. Plus, it encourages more sustainable travel for your kids.The children can learn the importance of being active, while the parents can get time to relax and enjoy nature.
It would be best if you considered bringing some snacks and maybe even going on a picnic while you're there.
4. Gardening with Kids
Gardening is one activity that offers something meaningful for both children and their parents while also being eco-friendly, which makes it perfect for this type of family dynamic.
It shows your children where most veggies and fruits come from and the life cycle of plants. If you already have a green thumb, why not share that with your kids and get them into gardening? You get to bond with your kids while getting a great-looking garden out of it.
5. Birdwatching or Wildlife Observation
Bird watching is doable anywhere, as long as you can access the outdoors. It is also an excellent way for single parents and kids to bond in an eco-friendly way, as it doesn't require much effort from the parent or child.
You can also do it on a budget, so it's not just good for single parents who are struggling financially – but anyone looking to have some fun.
Learning about the breeds of birds in your local nature area is a great start. You can even bring binoculars and cameras to see these birds better.
6. Beach Cleanups
Another way to make your kids learn the importance of caring for the environment is by getting them to join you on beach cleanups. This activity is best if you have older kids who are more capable so that you aren't running around the beach chasing after your kids when you have a cleaning task to do when you're there.
7. Tree Planting or Adopt-a-Tree Programs
Another activity that your kids might enjoy that positively impacts our environment is tree planting, or if you want something simpler, join an adopt-a-tree program. Many non-profits organize these events, so be on the lookout for these programs.
You can spend that time teaching your kids about the importance of the trees around us at a young age.
8. Upcycling or Recycling Workshops
If you're interested in another hands-on, creative activity for you and your kids, consider joining some upcycling or recycling workshops.
These programs can teach your kids how some items can still find a second use even after you've deemed them broken. It teaches them to be more resourceful while also being mindful of the things they already have.
9. Camping and Outdoor Adventures
One of the best ideas for holidays for single parents and their kids is camping. Going deep into nature (or not so deep, depending on the campsite) helps if you want to escape the loudness of your ordinary life.
You can spend quiet nights in nature, share ghost stories by the campfire, make smores, and have pockets of teachable moments as you set up camp. Again, if you're going to be the only adult there, it might be a good idea to go camping once your kids are a little bit older and more capable so that it doesn't stress everyone out, especially you.
10. Geocaching or Orienteering
Geocaching is a game where players use a GPS device to find hidden containers, called geocaches, worldwide. The game is free and open to anyone with a GPS device.
On the other hand, orientation is a sport in which participants navigate through an unfamiliar area using only their senses and navigational skills. This sport can be done individually or as part of a team. It requires practice, skill, and knowledge of the outdoors.
If you're looking for something fun for your younger kids to do, geocaching is a great choice. However, orienteering might be the better choice if you have older kids who want some adventure.
Conclusion
These activities get you outdoors and teach your kids how to love nature as you do. Not only will you enjoy yourselves and get to know each other more, but you'll also be able to do it without stressing out too much as a single parent organizing these activities. Therefore, consider doing these activities next time you want to go on a trip with your kids.