10 Steps Employers Can Take to Improve Employee Wellness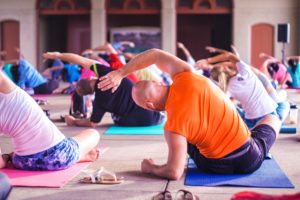 Your staff is the lifeblood of your business, and you can't achieve the results you want without them. Taking care of workers protects your enterprise and saves you cash. Employee injuries and illnesses cost companies over $225 billion each year.
What can you do to protect your staff members' health? Here are 10 steps employers can take to improve employee wellness.
1. Partner With Fitness Facilities
Exercise is one of the best things you can do to improve your physical and mental health. However, many employees may lack the time or extra money to spend on gym memberships.
Help them by partnering with quality local facilities with features like industrial fans and improved HVAC systems to keep exercising safer in a pandemic world. You earn bonus points if you encourage use by implementing flexible lunchtimes so staff can take a midday workout break.
2. Promote Flextime and Telework
Are you an employer with a small budget? The most cost-effective step you can take to improve employee wellness is to promote flextime and telework.
It creates inordinate stress when employees have to worry about picking up their child at day care on time but feel nervous about when they're "allowed" to punch out. Furthermore, some immunocompromised workers may feel unsafe returning to the office because of ongoing COVID risks.
3. Extend Health Benefits
Extend health benefits if you have the budget. The U.S. continues its shame of being the only wealthy nation with no public option or universal coverage, putting people between 18 and 64 at risk. Over half a million people declare bankruptcy each year because of medical bills — ease your staff members' burdens if you can.
4. Offer an HSA
Do you offer a high-deductible health plan? If so, your employees may skip the doctor even when they need to go because of the expense. One thing you can do to help is offer an HSA with your HDHP to allow employees to put aside pretax dollars toward costs their insurance doesn't cover.
5. Establish an Employee Assistance Program
America has a mental health crisis, and addiction, depression and anxiety rates have soared even higher since the pandemic. However, many staff members may avoid seeking the help they need.
Establish a confidential employee assistance program. It may include paid time off to seek mental health treatment and referrals to providers and resources like support groups.
6. Maintain Your HVAC System
The pandemic illustrated the crucial importance of indoor air quality. Changing your filters on the recommended schedule is vital, as is selecting the right model — opt for those with MERV 13 filters to maximize the removal of airborne contaminants.
You might also consider adding air purifiers to your office. Opening windows and installing fans can also improve ventilation.
7. Provide On-Site Day Care
Working mothers paid the highest pandemic toll, and their struggles are far from over. Child care expenses can consume a significant portion of each paycheck, making parents work longer and harder and straining family relationships.
Ease your employees' burdens by providing on-site day care. Parents can check on their children throughout the day and free themselves from the stress of racing to the center before it closes each evening.
8. Mandate Time Off
Americans have a time-off crisis. Roughly one-quarter of workers don't get any paid leave at all. Those who do often fail to use it. This may be because they worry about the effect of taking vacation on their careers.
However, the preponderance of scientific research shows that humans need time away to perform at their best. How can you get your employees to use their benefits? Mandate that they take their PTO. Make it a company policy that everyone takes at least a two-week holiday each year — it need not be consecutive, but they must take breaks.
9. Invest in Empathy Training
Far too many people consider empathy to be an inherent personality trait. However, the Dutch know that it's a skill you can teach, and they do so in schools.
You can't personally change the U.S. educational system by adding this to the curriculum. However, you can make empathy training a core part of your ongoing learning program. Doing so benefits you by promoting office harmony.
10. Keep Employee Meals Healthy
You might want to skip the doughnuts, bagels and pizza. They are traditional office treats, but all that white flour is toxic. Instead, choose whole foods and cater to dietary restrictions.
Take Steps to Improve Employee Wellness
It doesn't matter if your business is big or small. Employers can play an active role in their staff's health. Make the effort to improve employee wellness and reap the many rewards.
Author Bio: Jane works as the founder and editor-in-chief of Environment.co where she covers environmental news and sustainable living tips.