8 Exciting Eco-Friendly Summer Activities You Can Enjoy with Your Family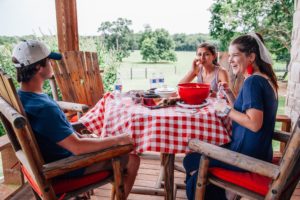 Summer is one of the greenest times of the year. It's also a time when kids are usually out of school and parents would take time off from work.
The sun is shining, the flowers are blooming, and many outdoor activities one can enjoy. After all, you would not want to stay at home when the sun is all bright and shiny.
So, take your time to go outside with your loved ones, unplug, and do some eco-friendly summer activities that everyone can enjoy!
It is also great that you do some green activities that are educational and fun. Here is a list of the eco-friendly activities that you can enjoy with your family this summer:
Go on a family picnic
Going on a family picnic is one of the best ways to enjoy the beauty of nature and the outdoors with your family.
So, try soaking every minute of sunlight when you head for breakfast, lunch, or dinner with your family.
Make sure that your picnic basket is made up of sustainable options, like bamboo. Try switching those plastic food containers for glass or stainless steel containers.
For your sandwiches and other dry snacks, you might want to go with cloth food sacks. You can either make your own if you have excellent sewing skills.
Alternatively, you can buy these in stores as well, if sewing is not quite your thing.
Visit local hiking trails
Visiting local hiking trails can be a lot of fun, especially if you are in the right area. If you have younger kids, note that some hiking trails can be a bit difficult for them.
So, as much as you can, try picking one that has shorter routes. It is also beneficial for you if you have a particular place or landmark that you would like to visit. Doing so allows you to take breaks along the way and have a little snack.
So, pack your backs, carry your favorite trekking poles, and visit the local hiking trail near you. That way, you and your kids can spend the summer communing with nature.
Enjoy family biking
If it has been quite some time that you are behind those two wheels, you will soon realize how biking is a fun and freeing activity.
It is also an extremely eco-friendly activity that lets you get somewhere part of the challenge and fun!
There are plenty of options the entire family can choose from, like e-bikes which usually help you with the brakes. There are also lower-priced options being sold in the market.
Observe the night sky
Sometimes, one of the best times that you can spend with friends are those that are done in silence, just enjoying each other's company.
So, stay up late and enjoy stargazing, grab a blanket, spread it out, and start to admire the stars under the clear nighttime sky.
Set up camp
When heading off camping, make sure that you bring along with you the right eco-friendly supplies and have an eco-friendly plan.
Initially, it might cost you to buy essential camping stuff like a tent and other camping gear. However, it is also a great way to stay close to nature, allowing your kids to learn more about the environment. That way, you instill in them early on the importance of saving the planet.
Organize an outdoor treasure hunt
This is a fantastic option if your kids have a couple of friends coming over for special occasions such as birthdays.
Organizing an outdoor treasure hunt is a fun and creative way that you can do to keep your kids active. Try to leave out clues relatively close to one another, or you can space them out as well.
You'll want to add a treasure or prize for the kids to be motivated to look for it. Make sure that when picking materials, you choose something fun and environmentally friendly at the same time.
Grow a garden
Another eco-friendly summer activity that you can enjoy is planting fruits and vegetables! This creates a lot of benefits both for children and parents.
Gardening can provide you with a handful of mental and physical benefits. Not only it helps you stay fit, but it's also a powerful way to relieve anxiety and stress.
Plus, it allows you to soak up all those summer rays. Just don't forget to put on your sunscreen, though!
Visit a nature preserve or park
As the weather changes, so does the natural world surrounding us.
All that lush greenery will soon start to change, the summers will wane, and certain animals will retreat to their caves or warmer climates.
So, before summer is over, make sure that you spend the day with your family on a nature preserve. That way, you can fully appreciate the beauty Mother Nature has to offer!
Final Thoughts
If you want you and your kids to have a fun-filled summer without breaking the bank or losing your sanity, then you should head out to the great outdoors. And while you are at it, find eco-friendly activities that you and your kids can enjoy.
PRO TIP: Let your kids choose what they would like to do this summer. That way, they can have a worthwhile vacation.