9 Creative Ways to Reuse Single-Use Plastic at Home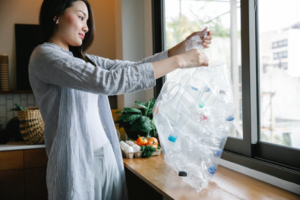 Single-use plastics are a major environmental problem. Single-use plastics are harmful to the environment because these plastics don't biodegrade.
The term "single-use plastic" refers to a wide variety of plastic items, including straws, bags, cups, plates, utensils, etc. The most common type of single-use plastics is plastic bags and cups. You use these once and then throw them away without considering the consequences of such an action.
Single-use plastics have become a significant environmental problem because they do not biodegrade. These plastics will stay in the environment forever if left untouched. The plastic materials can also end up in oceans by strong winds or washed into rivers during heavy rainfalls, making them difficult to clean up from natural water sources.
If starting a more eco-friendly lifestyle, you should consider being more mindful of how you deal with single-use plastics at home. One of the ways you can be better with how you manage your single-use plastics would be to reuse them in some way around the house. If you need ideas on how to do that, here are a few creative ideas you can try.
1.   Reuse yogurt containers for a variety of storage
If you consume a lot of yogurts and have some yogurt containers running around, you should consider reusing them in some way. Reusing yogurt containers for various storage options is an easy way to reduce your single-use plastics.
You can first use it as a vase or as a container for food storage. You can also use it as an ice pack.
Some people also like to paint their yogurt containers and turn them into decorative pieces, which is a project that you can even do as a way to bond with your kids and use it to store smaller stationery pieces in your home office or for your kids' arts and crafts.
2. Bird feeders
We need to stop polluting the environment and find ways to recycle. One way to do it is by turning single-use plastics into bird feeders.
If you have a large plastic bottle, like ones that contain detergents, you can cut off a few square cuts from the side of the bottle while still keeping the bottom of the bottle attached as if creating large windows. These holes would be the way for the birds to get into the bottle. The bottom of the bottle will be where you put the birds' feed.
You can then hang these bird feeders anywhere, and it should enable birds to perch on them and eat feed there.
3. Flower pots
The simplest way to reuse your plastic bottles is by turning them into a vase. You can design and modify it so that it looks a lot more appealing to look at, and then you can put it in water and add the flowers you want to it.
Some even use these bottles to put them into their garden instead of flower pots. It's a great way to make the most out of the plastic bottles while sprucing up your garden or home.
4. Plastic bag dispenser
If you're getting plastic bags, it's a good idea to reuse them as much as possible. However, keeping these plastic bags can be challenging because you don't know how to store them. If you shove them into a cabinet, it can clutter up your cabinets.
Instead of doing that, you can create a homemade plastic bag dispenser. All you need to do is use a cardboard container like the ones from the chips and cut out a small hole at the bottom of these cardboard containers where you can grab the plastic bags if you need them.
5. Hanging planters
One way for you to reuse single-use plastics is by turning them into hanging planters. It's pretty simple to do this step.
You can cut a bottle in half, drill two holes on the side, and use it to hang these bottles into a hanging grid in your garden. You can use both ends of the bottle if you want to, but if you're using the bottom half, it's a good idea to drill a few small holes to help the water not completely flood your plants.
6. Self-watering water bottle garden
Reusing single-use plastic water bottles is a great way to kickstart your change towards eco-friendly living.
A self-watering water bottle garden is an easy way to reuse single-use plastics and turn them into something useful.
Cut a single-use plastic bottle in half and put the top half upside down on top of the bottom half. You can put a yarn string through the mouth of the bottle into the water that is at the bottom half of the bottle. Then, set the plant and the soil into it. The string will be the one slowly bringing water up into the plant.
7. Recycled wind chimes
To turn a plastic bottle into a wind chime, get rid of the bottom half of the battle and then attach whatever you want, such as colorful beads, onto the top half of the bottle.
You can then put it anywhere around your house that gets a lot of wind to enjoy your new, homemade wind chime.
8. Path lights
Get battery-operated tea lights and a glue gun if you want path lights out of your plastic bottles. Cut the plastic bottle in half and then decorate these two. You can then attach the halves onto a sturdy stick with the help of a glue gun. You can then put the tea lights into the bottle.
9. Crochet with plastic bags
The crochet bag is a project anyone can do, but it will be easier if you are into crocheting. It is a way to turn single-use plastics into a reusable and sustainable alternative.
The project starts with cutting the plastic bag into strips still attached to the top half. You then crochet the strips hanging off the plastic bag together to form a new material.
Conclusion
All these approaches can help you turn a single-use plastic that you may have around the house into something usable. Instead of throwing away your single-use plastics for them to end up in a landfill, consider trying out these creative approaches. It will reduce the waste that you produce in the house.