May 12, 2020
In
Air Quality, Energy, Environment, Gardening, Health, Home, RECYCLING, Sustainability, Waste, Water
9 Simple Ways to Be More Eco-Friendly in the Kitchen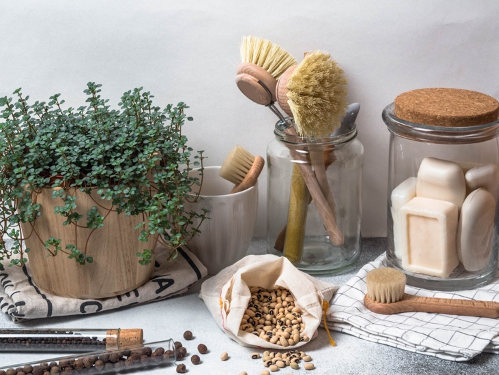 Kitchens are the heart of the home, where we spend time with family and prepare the meals that nourish us. So, wouldn't we want it to be as clean, green and healthy as possible?
From updating bulbs and appliances to changing simple everyday habits, there are numerous ways that we as homeowners can be more environmentally conscious and live a healthier lifestyle. And it starts in the heart of the home.
Here are nine simple ways to be more eco-friendly in the kitchen.
1.  Remember to BYOB (Bring Your Own Bags)
Avoid loading groceries in plastic bags. Instead, purchase a few stylish reusable bags to keep on hand. But it's more than just the main totes to carry the food home. Also, be sure to invest in reusable cloth or mesh produce bags and glass containers for bulk nuts or granola. Weigh the glass jar and ask the cashier to deduct the jar's weight.
And this goes for more than groceries, too. Even if you're shopping for apparel or home goods, bring along a bag for those as well.
We all forget our bags from time to time. But if you get into the habit of placing the bags back into your car immediately after unpacking, you'll have them the next time. Reducing single-use plastics is one crucial step you can take to be more eco-friendly in the kitchen, and this also applies to plastic bottles.
2.  Eliminate Plastic
Not only are they single-use, but plastic containers and water bottles contain harsh chemicals. Instead, use glass containers like Mason jars. You can even get thrifty by rinsing and reusing glass jars from used food items like pasta sauces.
Eliminate plastic water bottles in your kitchen to be more eco-friendly. Instead, set up a filtration system in your refrigerator and the kitchen sink. Use it to fill glasses at dinner or, if you're on the go, fill a reusable stainless steel water bottle. If you don't own your home or want to install a filtration system into the fridge, use a filtered water pitcher instead. Not only does this keep single-use plastics from being thrown out, but it keeps you and your family healthy as it removes toxins.
And if your family enjoys sodas and sparkling water, invest in a soda streamer to make fizzy drinks at home instead of going through plastic liters or aluminum cans.
3.  Break the Paper Towel Habit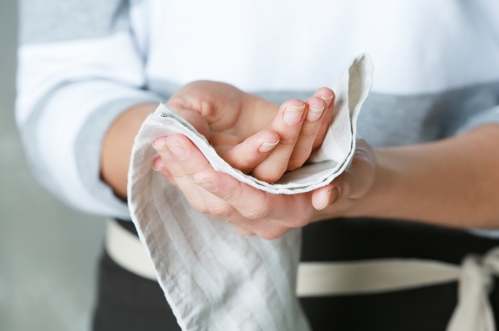 One easy way to have a more eco-friendly kitchen is to get rid of paper towels. We consume rolls upon rolls of paper towels, which is quite a waste of our natural resources.
Instead, break the habit and use kitchen towels and dishcloths in their place. You can even recycle old clothes or sheets to use as clean-up.
4.  Grow a Garden
A garden is an excellent way to make a kitchen–and your eating habits–more eco-friendly. Not only will you grow your produce organically, but it reduces the carbon footprint significantly. Even if you lack a yard for a garden, you can at least keep some potted herbs along a sunny windowsill or countertop, pinching off rosemary or thyme as needed.
Growing a garden also allows you to create a nutrient-rich compost using leftover food scraps. This, in turn, reduces the overall waste you throw out.
5.  Use Chemical-Free Cleaners
Standard household cleaners contain many harsh chemicals, such as phthalates, ammonia and chlorine, which are harmful to our environment as a whole and our indoor air quality. At the very least, reach for a green cleaner that is safe for the environment and do not list these chemicals in their ingredients.
Instead of grabbing any spray, make your own solutions instead. With a few basic organic ingredients, like baking soda, vinegar and lemon, you can create a more eco-friendly kitchen cleaner.
6.  Install Energy Star Appliances
Energy Star appliances are rated based on energy consumption. Practically every appliance in your kitchen can be replaced with an Energy Star-rated alternative. From refrigerators to dishwashers, do your research on these appliances and choose one that reduces both energy and water.
You can also reduce water use by installing a low-flow aerator on the kitchen sink's faucet. These water-saving faucets are sure to save you on your water bills each month, which can add up over time. And sometimes, your state, city or county will pass along a rebate for this upgrade, leaving even more money in your pocket.
7.  Run Dishwasher Only When Full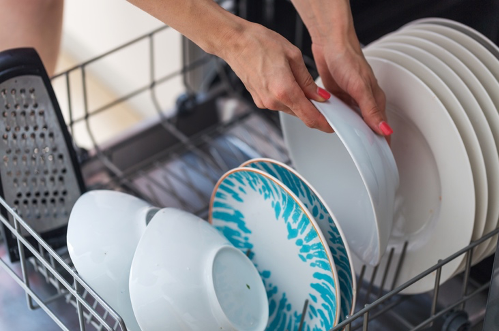 While many assume it's better to wash dishes by hand as opposed to the dishwasher, it's actually a common misconception. In fact, it's more energy-efficient and water-efficient to run a dishwasher, but only when it's completely full.
Instead of running a dishwasher with just a few plates or cups, make sure it's packed with as many items as you can safely fit. As mentioned, it also helps to have an Energy Star-labeled dishwasher that uses less energy and water than conventional models–but at the very least, use every nook and cranny of the appliance to make the most out of a dishwasher load.
8.  Switch Bulbs to LED
Speaking of saving energy, another way to be more eco-friendly in the kitchen is to switch your bulbs to LEDs. While it does have an initial investment, ultimately, it's guaranteed to save energy and reduce your monthly electrical bill. Not to mention, LEDs last much longer than incandescents and even CFLs.
Many homeowners assume LEDs will look garish, but this is simply no longer the case. Today, LEDs are available in a range of color temperatures–even soft warm lights that resemble natural daylight.
9.  Use Zero-VOC Paints and Finishes
If you have the opportunity to renovate your kitchen and wish to update the colors, consider using non-VOC paints. VOCs, or volatile organic compounds, contain carbons that are emitted into the air. This harms our home's indoor air quality, which can create any number of immediate respiratory issues or even cause health issues over time. Today, you can find well-known brands like Benjamin Moore and Behr offering zero-VOC paints, as well as stains and finishes.