Affording Sustainability at Home: Where To Start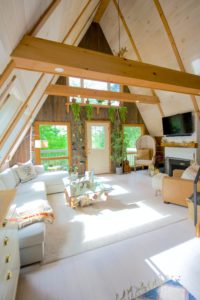 If one of your goals for your household is to make it more sustainable, it might feel a bit hectic as you consider where to start, especially in these uncertain times. Ensuring that your home maintains sustainable features allows you to do your part to help the planet, and to hopefully save some extra money in the long run on energy costs if you're currently stuck inside. As you take into account all that goes into improving your home's energy efficiency, the appliances you use, and sustainable renovations in general, you're bound to have some questions. Use the tips below as your guide to affording sustainability at home and you'll be on your way to an easy and economically enhanced carbon footprint.
Why is energy efficiency important?
Looking into the energy efficiency of your home is crucial to understanding any problem areas that could be costing you money every month. Especially if you're spending increased time at home, you'll likely want to evaluate your monthly energy cost in order to save some extra cash. Some of the more common signs that you have energy efficiency issues in your home include weak insulation, uneven temperatures or drafts, cold floors and even the growth of mold. Letting these problems go unfixed can not only cause major issues for your home but also cause health issues for residents if not properly taken care of.
On top of the physical problems poor energy efficiency can create, there are also monetary complications as well. If you've been experiencing a much higher energy bill than you have in previous years, it could be due to improper insulation or even the need for a new HVAC system. Maintaining proper energy efficiency is crucial to the overall health of your home, its residents, and your bank account, so be sure to keep tabs on where your house may be falling short. Luckily, there are a variety of financing options that can help you curb costs when it comes to major repairs, like with your HVAC or electrical systems. There are plenty of sustainable upgrades you can add to your home to make it more energy efficient, which might leave you wondering, what changes should I make to my home?
How can I schedule and budget for sustainable upgrades?
Scheduling out larger-scale improvements to your home is also a great way to make use of any extra free time you might have, and is an essential step for any home renovation project. If you anticipate there will be increased energy usage at home for some time, it never hurts to have a plan in place to transition to a more sustainable form of energy for your home.
From geothermal heating and cooling to the installation of solar panels, there are several options to look into that work best for your home and lifestyle. It never hurts to call local providers of such services and to start looking into how to fund such projects should you feel strongly about making a full household energy switch.
Funding options range from leasing the proper equipment to taking out specialized loans in order to pay for the systems on your own. Since most home equity loans offer attractive lower interest rates for homeowners, it might also be in your best interest to consider how home equity loans work. Aside from this, if there are alternative funding options that are of interest to you, don't limit yourself as there are plenty of ways to tackle affording these kinds of upgrades.
What changes should I make to my home?
Once you've taken the time to assess where your home might be falling short when it comes to energy efficiency, it's time to make the necessary changes to fix its weak spots. Take the time to make any changes you know you can do on your own, especially if you're finding yourself with extra free time while being stuck inside. Adding insulation to your attic can save you up to $600 a year in heating and cooling costs, so make sure to do your research on where you could stand to better insulate your home and how much it will save you.
There are also plenty of simple changes you can make now that yield a faster ROI than others. You should consider smaller changes that still pack a big punch:
Buy Drinking Water In Bulk – Are you a culprit of purchasing single use water bottles that may be harmful for the environment? In some areas, it may not be practical to grab your drinking water from the tap, but that doesn't mean you should have to increase your carbon footprint just to satisfy your thirst. Using water coolers at home gives you fresh water each and every day while allowing you to use more sustainable practices in your home.
Switching Out Your Light Bulbs For LEDs – When you think about the conservation of energy, what's the first thing you think of? It probably has something to do with leaving your lights on. Even if you do accidentally forget to flip the switch, using alternative technology can help your home be more eco-friendly. LED light bulbs are just one of those alternatives you can easily utilize for a fairly low cost.
Installing Low Flow Water Fixtures – Do you prefer to step into a hot shower but have to wait for your water to heat first? Unfortunately, you waste a large amount of water at the convenience of indulging in a warm dip. By installing low flow water fixtures, you can better allocate the amount of water you go through without having to suffer from cold temps. Keep in mind that you can also save money on your water bill, proving that sustainability saves both green on the earth and in your pocket!
Affording Sustainability And Your Bottom Line
Changes in your home can usually be made on your own with the proper research, and will give you a quicker ROI. Beyond these options, you can always consider larger scale upgrades that often have a slower ROI, but still offer a large return with a greater impact. From installing new windows, investing in solar panels, or even buying a new water heater, there are several resources you can utilize such as an online green marketplace that offers affordable ways to make your home more sustainable. Determine which upgrades work best for you and your home by doing a home energy audit on your own, or by hiring a local provider.