Don't Let Your Mattress Hurt the Earth
Best tips for how to get rid of a mattress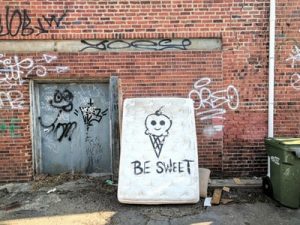 If you've been sleeping on the same bed for the past 7-10 years, it's probably time for an upgrade. The average lifespan of a mattress varies by type, but generally, it's somewhere between 7-15 years, even if you've been a responsible sleeper who rotates and flips their mattress regularly.
While most people realize a mattress doesn't last forever and needs to be changed about every decade, a lot of people are left in the dark about what you do with an old mattress when the time for an upgrade comes around. A non-socially responsible person would tell you to drop it off at the dumpster, but us eco-friendly inhabitants who respect our planet should know better than that.
Unfortunately, a lot of people don't have the information for handling unwanted mattresses. You may be asking yourself, why does any of this matter? The long answer would include describing to you the legal implications for dumping a mattress, the ways in which some mattress materials contain non-biodegradable chemicals which can seep into our drinking water, and the lengthy process of mattress decomposition. The short answer: It's because we are destroying our earth!
Out of the 33 million mattresses that the U.S. manufactures each year, roughly 20 million end up in a landfill or incinerator. This is a devastating statistic in itself, but what makes it even worse is the fact that 85% of the materials in a mattress are recyclable.
If you're thinking about hauling an old mattress to the dumpster… stop! We're here to tell you that there are eco-friendly options for dealing with a used mattress. Our planet will thank you.
Did you know you can donate your mattress?
Ah, the wonderful gift of regifting.
As long as your mattress is in an acceptable condition (no rips, stains, etc.) you may be able to pass it along to another sleeper.
Instead of tossing your mattress and never letting it see the light of day (or darkness of night) again, you can give the gift of sleep to someone else in need. While this could include passing it down to your favorite cousin, a better option may be to check out some charity options first to see if you can make a contribution towards someone who will be especially thankful for your donation.
Before you go running to your local charity, you should know there are a lot of particular laws in place about donating and re-selling used mattresses. All centers may not accept a used mattress. However, there are national charities who openly accept mattress donations.
Your local Habitat for Humanity ReStore and Salvation Army are great places to start when you're trying to donate your gently used mattress.
If your mattress has seen its last day
Maybe you gave your mattress a rough life and it's in no condition to be donated. There's no judgement here. It's just important that you know there are environmentally friendly options for even the filthiest of mattresses.
When your mattress is stained, ripped, or destroyed in some way, donating it is out of the question. If you wouldn't want to give it to a family member, then you definitely shouldn't try to push it off onto a stranger. Besides, most foundations won't accept damaged mattresses anyways.
One thing you can do with your ruined mattress is have it recycled!
If you think about it, it shouldn't be a surprise. The main components of a mattress include foam, wood, steel, and fibers. These materials can be extracted and repurposed into other products such as pet beds, mulch, steel appliances, and clothing.
There are plenty of facilities across the country that will recycle your old mattress and give it a new life.
Be wary of junk removal services
Many people make the mistake of blindly turning to a junk removal service for hauling off their old mattress. Just because they're moving the junk, doesn't mean they're being socially responsible with it. Before you call a junk removal company, make sure you look into where your mattress actually ends up after they load it in the truck.
Whether the donation or recycling route is the right one for you, rest assured that your unwanted mattress will serve a better purpose than just filling up a landfill.
By Alex Leaf