Main Stage Schedule
Host EmCee – Chris "K" Kresge from 105.5 The Colorado Sound
10am – Yoga in The Yard with Old Town Yoga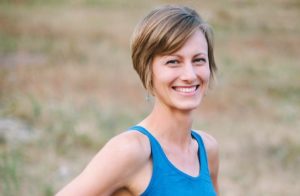 Andrea Bilderback is a seeker and practitioner of holistic health and wellness, and has been practicing yoga since 2002, and teaching since 2008, after receiving her 200 hour Vinyasa training. Andrea genuinely believes that curiosity is what makes life worth living. She is deeply committed to balancing sthira and sukha—steadiness and ease—in her own practice and in her teaching, and to cultivating awareness of this union in her students. Alignment, purpose and intelligent sequencing are of utmost importance in Andrea's classes, though she lovingly encourages her students to embrace exploration, both on and off the mat. Andrea considers it a tremendous honor to have had the opportunity to teach the Northern Colorado Community at events such as Hanuman Festival in Boulder and the Sustainable Living Fair in Fort Collins.
11:00 – Live Music with Autumnal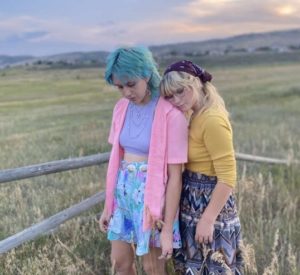 Autumnal is an indie-pop band from Fort Collins comprised of two musicians. They met each other in 5th grade, and have been best friends since. They began singing together in middle school, and started street-performing around the streets of Fort Collins in 2016. They have performed as a band at FoCoMX, Yum Yum's, Your Mom's House and more. They have played with local bands such as Plasma Canvas, Luna Shades, and Roseville. Their influences range from Peach Pit to ABBA. They continue to write new songs, and perform around town. Their single "I'm Falling" will be released soon, as a part of their EP "Youth."
11:45 – Compost Queen – Jamie Blanchard-Poling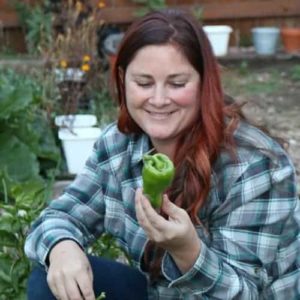 Compost Queen is a Public Benefit Corporation in Fort Collins Colorado. They value the environment and our community over their bottom line in order to help residents reduce their carbon footprint, lower the amount of organic materials going to the landfill, and increase soil biodiversity by offering finished compost back to the customer to use in their own space.  Learn all about this service.
.
.
.
.
12:00 –  Community Drum Circle: bring your drum!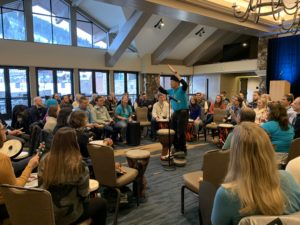 Join us for a Community Drum Circle at Earth Day Fort Collins. This facilitated, rhythm-based event promotes community, collaboration, and well-being for people of all ages and abilities.

Come and play, or listen and enjoy! In the spirit of Earth Day, be creative; bring your own drum, percussion, or homemade instrument. Pizza boxes, kitchen utensils, homemade shakers, etc. also make great music! Tony Vandaver will be your facilitator. He brings years of percussion experience collaborating with school, church, university, and civic groups along the Front Range. Chairs will be provided.  See you at Earth Day!
1:15 – Live Music with May be Fern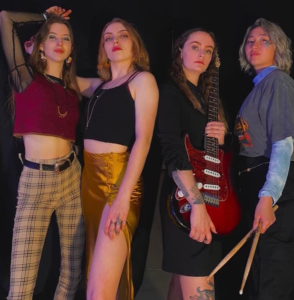 May be Fern, combining the musical talents and intelligence of its four members, creates a sound you will not forget. Kate Fern, with 12+ years of professional theatre experience and a lifetime of exceptional vocal performance, plays bass guitar and is one of the two lead singers in May be Fern. Hannah May, a multi-instrumentalist, singer-songwriter, and local professional musician, plays keyboard, guitar, and lead vocals. Carleen Jeffers, originally a classically trained upright bassist, uses their eclectic music taste and perfect ear as they rock the rhythm section of May be Fern.  Madi Spillman plays left-handed lead/rhythm guitar in May be Fern. Madi has an extensive resume in live music performance and has recorded a studio album with an artist from New York. Together these four icons entertain, inspire, and offer a new and exciting sound to the music world.
2:30 – Live Music with Fort Collins School of Rock Band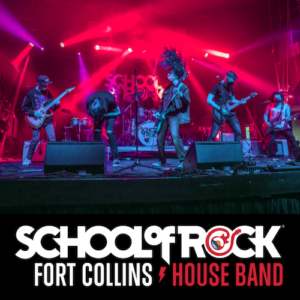 School of Rock is the most revolutionary music education program in the world, and performance is at the core of our educational approach. As such, we create additional opportunities for students to perform on stages throughout their community. The House Band music program allows our most talented students the opportunity to join a band and play routinely in front of live audiences. This allows our students to gain real music experience associated with gigging musicians, and to become leaders and mentors inside the School of Rock community.  Our House Band has rocked venues all around Colorado, including the main stage at Taste of Fort Collins, The Mishawaka Amphitheatre, and the world famous Red Rocks Amphitheatre in front of a sold-out crowd of nearly 10,000 people!
3:30 – Growing a Fun Solar-Earth Culture, Kelly Sabota-O'Donnel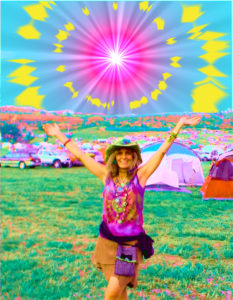 Come and learn some fun and easy participatory techniques and ways to connect to and think about the Solar and Earth cycle. You will love to share these interesting, creative and cosmic awareness ideas with your children,
friends and neighbors.
Kelly Sabota-O'Donnell is a Solar Engineer/Speaker/Writer/Singer songwriter/Artist/Poet/Maker. She has helped build and lived in several off grid and grid tie solar houses that were part of a remote solar home tour. She is the author of "Nature's Calendar-Clock: The Divine Design Of Time" and Natures Calendar Playing Cards, 3 Children's stories and has been published in several Magazines.
She has given talks at, Ignite, the Loveland museum, churches, colleges, radio shows and festivals including Medieval Faire, Beltania, ManaFest in Hawaii, Tribal Vision at Taos NM., Arise Music Festival at Sunrise Ranch Co., Rocky Mountain Institute of Science and Technology Maker Faire.
When she is not busy gardening, she is studying, creating, tying together the Heavens, Earth, and Self, with science, art, music and architecture and and weaving NaturesCalendar.org
4:00 – Live Music with Satellite Pilot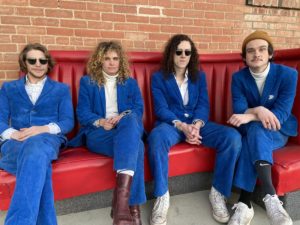 Satellite Pilot is a psychedelic indie-pop band from Loveland, Colorado, and they are bringing dreamy 60s pop to the manic modern age. Satellite Pilot was founded by songwriter Alex Moore in 2013.  Current members of the lineup include Lucas Wood, Cayden Alban, and Sierra Fournier. Their most recent release is their self-titled album, which reflects their strength in narrative driven songs. Satellite Pilot's overarching goal is to enlarge the telepathic link rooted between people, themselves, and others. They emphasize the power of connection and positivity through music.