Thank you for participating in Earth Day Fort Collins on Saturday, April 22nd from 11:00 AM-5:00 PM at Civic Center Park in Fort Collins, CO.
Sponsor and Vendor Info Below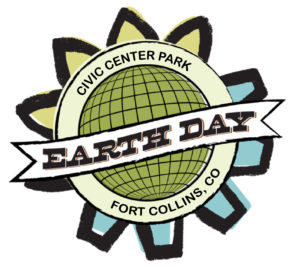 Earth Day is presented by the Sustainable Living Association, offering a combination of activities and events for the entire family, featuring informational booths and displays, arts & crafts, live music, speakers, workshops, food and a beer garden.
Earth Day encourages and inspires community members to honor the Earth EVERY DAY and make efforts toward conservation and preservation of our wondrous planet for current and future generations.
Admission is FREE, attendees are asked to bring non-perishable food items or donate $s to the Food Bank for Larimer County.
If you have any questions about the Exhibitor information we are providing, please do not hesitate to contact Kristina Cash, by cell phone at 970-217-8786 or kristina@fortifiedcollaborations.com
Civic Center Park is located at the corner of Laporte Avenue and Mason Street in downtown Fort Collins: address is 201 Laporte Avenue.
Exhibitor Booth Space
Exhibitors can set up at 8:30am on April 22nd and the event is open to the public from 11am – 5pm. You must have your vehicle out of the parking lot by 10:30am and be fully set up by 11am.
Exhibit spaces provided are 10' x 10' and you will need to provide your own tent, table and chairs. It is highly recommended that you do bring a tent to protect yourself and your display during this outdoor event.  Volunteers will be available to help unload.  There is plenty of parking in the Parking Garage on LaPorte Avenue and bike racks will also be provided.  Electricity is not available to exhibitors at this venue. 
You can view a map of the venue online here so you can get an idea of the space. When you arrive at the venue please come to the parking lot and check in at the exhibitor table.  There will be volunteers on hand during setup to help direct you to your spot. The venue at Civic Center Park is small and easy to navigate.
General Logistics
Exhibitors must stay for the duration of the event.  Leaving early is not allowed.

Exhibitors must have at least one person at booth at all times while event is open to the public.

Exhibitors must keep their exhibit space neat and clean, taking every precaution against possible injury to visitors, guests or employees and staff.

Please bring your own dolly, wagon or cart for conveying your booth contents, we do not provide these.

Smoking is prohibited in booths and exhibits.

Exhibitors shall comply with those laws, rules, regulations and codes of the State of Colorado, City of Fort Collins, Larimer County and the Sustainable Living Association.

Food & Drink is NOT provided for Exhibitors or Sponsors, but is available for purchase at event.

Exhibitors shall carry out all trash produced or dispose of ONLY earth-friendly, biodegradable trash in the Zero Waste Stations.  Help us meet our Zero Waste Goal!
Tell people you are coming to Earth Day!
Please invite your Facebook friends to the event here – Earth Day on Facebook
Important Tax Information
All exhibitors that are selling merchandise at this event must display a Special Event Sales Tax License (or the State of Colorado-Multiple Event Sales Tax License) from BOTH the State of Colorado and the City of Fort Collins.  The City of Fort Collins Sales Tax License will be sent directly to you by the city tax office and all questions regarding city taxes should be directed to 970-221-6780.  
For the State of Colorado Sales Tax License application, we will send forms necessary in April. They will also have the info up on their website by the event date.  If you have any questions about this please contact them directly.
Once again, thank you for participating in Earth Day Fort Collins.  We look forward to seeing you there!