Easy Ways to Have a More Sustainable Wedding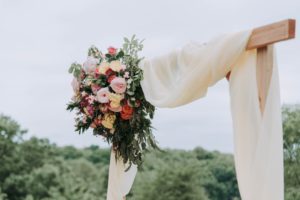 When you're planning a big, beautiful wedding, the last thing on your mind is how much trash you might produce during the event.
It's not exactly "romantic" to think about. But, it's a sad reality for the wedding industry. The average wedding produces 400 pounds of garbage and 63 tons of CO2. Multiply that by over 2 million weddings a year, and you can see the problem.
If you're making efforts to live more sustainably and you have a wedding coming up, those efforts can cross over to your big day. From the rings on your fingers to the decor all around you, and even including getting yourself ready beforehand, there are many ways to plan an eco-friendly wedding that everyone will love. Let's touch on a few.
Shop Local and In-Season
Getting your wedding supplies as local as possible is a great first step in being more sustainable. If you work with a traditional caterer, they might have to order food for the event that comes from another part of the country. Depending on where you are, your ingredients could be over a thousand miles away, releasing tons of carbon emissions before they reach your caterer.
Try to work with a caterer committed to sustainability, and someone who uses local ingredients within a 100-mile radius. Or, if you have a family member or friend who cooks, work with them to create the perfect "farm-to-fork" meal. Scour local farm markets and decide what's in season to create the perfect, eco-friendly meal.
In addition to your food, your flowers should also come from a local florist or farmer. Some of the benefits include:
A longer life
No travel time/less handling
Larger varieties
Support of the local economy
You're also cutting back on carbon emissions when you don't get flowers shipped in from another part of the country. So, as tempting as it can be to order your floral arrangements online, do your research on local florists and work one-on-one with them to create unforgettable displays.
As a bonus, did you know you can recycle your wedding flowers? Donate them to a local hospital or nursing home if they're still in good shape. You have no idea how much they could brighten someone's day and get a "second life" in the process.
Get Creative With Decor
When you're planning a wedding, you know that flowers are only the start when it comes to decorations. You might be wondering how you can make your decor more eco-friendly, but it's easy if you're willing to get a little creative.
Search for second-hand items or things that have been recycled. You can bring almost anything back to life with a fresh coat of eco-friendly paint that doesn't release the same harmful chemicals as traditional options. This is a great option if you're DIY-ing most of your wedding or holding it at home. You can make almost any space into something truly unique and beautiful by painting it.
Rustic and "woodsy" are both in style right now, so try turning to nature for your decor options as much as possible. Planning a fall wedding? Decorate your tables with beautiful leaves, twigs, and acorns.
As far as purchased decor, scan thrift shops for secondhand items, or rent major items like tents and tables rather than purchasing new ones. Avoid using plastic decorations as much as possible. Instead, opt for biodegradable items or wood that can be painted and reused elsewhere. If you're willing to step outside of the box when it comes to your decorations, you can make everything more sustainable – we haven't even gotten into serveware and drinkware. They're technically not "decor," but there are plenty of eco-friendly and recyclable options out there today that can significantly lower the waste of your event.
Get Your Guests Involved
According to Buddy the Elf, the "best way to spread Christmas cheer is singing loud for all to hear." You can take that attitude toward sustainability. In fact, everyone who cares about the state of the planet should be "singing loud" about how important it is to be more eco-friendly.
Okay, you don't have to sing to your guests. But, you can let them know the efforts you've taken to create a more environmentally-friendly wedding and why those changes are so important to you. In your invitations, make them aware of your mission and instead of gifts, ask for donations to some notable nonprofits that are committed to a better world, including:
Environmental Defense Fund
Sierra Club
American Rivers
The Nature Conservancy
Clean Air Task Force
Education is the first step toward a more sustainable future, so don't be afraid to share your passion with your guests. They'll leave feeling good about being a part of something so unique, and you may have sparked the desire for at least one more person to "go green."
As you can see, there are countless ways to make your wedding day more sustainable. By making a few small changes to your special day, you can make a big difference.