Eco-Friendly House? Build Your Own Shelves From Used Wooden Pallets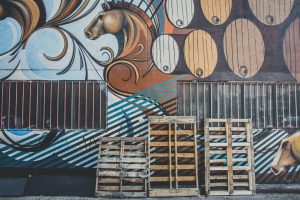 An eco-friendly home begs for eco-friendly furniture, and if you want to build your own shelves, the answer might just be as simple as some used wooden pallets. Used wooden pallets are a big win because they're both sustainable and durable, and easy to turn into a beautiful shelf. Shelves available on the market often have materials that contain VOCs, such as paint, varnish or glue. VOCs are chemicals that can have serious negative effects on your health as well as on the environment. Studies have found that the concentrations of many of these chemicals are up to ten times higher indoors than outdoors. Exposure to VOCs can cause eye, nose and throat irritation, headaches, nausea, liver damage and kidney damage, among other negative health effects.
Finding pallets for your shelves
If you've decided to go for it and make some sustainable pallets shelving, the first step is to find yourself some good pallets for your project. To make wood pallets shelves that are both sustainable and attractive, it is important to determine the source of your pallets and their previous use. Pallets are used for shipping all kinds of products, so you want to be sure that the ones you use for your sustainable shelves were not used for shipping chemicals. Besides, pallets used for international shipping usually have a stamp on them that tells you how the wood was treated. Look up the meaning of the stamp online, if you see one. Avoid any stamped 'MB', which indicates they have been treated with Methyl bromide, a pesticide that can be harmful to your health and to the environment. Also avoid pallets that are wet or stained; you don't want your shelves to rot, smell, or look unappealing.
Used wooden pallets are easy to find. Be on the lookout for any that have been put out by dumpsters for collection, especially outside small businesses. Be sure to ask if it's okay to take them if you're not sure. Check classified ads and boards regularly to see if any have been advertised for free collection or at a low price.
Turning your pallets into shelves
Besides your used pallets, you'll need a few basic tools before you can get started. Fortunately, pallets are perfect for shelving because they already have the basic structure of a shelf. You can choose whether to make just the minimal adjustments or to get more creative with your shelving project, depending on your skill level and inclination. Pallets can be used to build many different kinds of shelving. You can make bookshelves, shoe racks, a wine bar, and floating display shelves for any room in your house. Shelving can look stunning in designs that use the pallets either vertically or horizontally. There are many ideas and tutorials available for free online to get your creativity flowing and your sustainable pallet shelving project going.
Finish and shine
While pallet shelves looks beautiful plain and unvarnished, you may want to stain your pallet wood to enhance or match your décor, or apply polish to preserve it. There are natural ways to do this that are eco-friendly. For instance, you can make a natural wood polish from simple ingredients that are readily available in your kitchen, such as olive oil and lemon juice or oil and vinegar. To stain your pallet, buy eco-friendly wood stains or make your own using natural materials such as coffee, indigo, or dried walnut husks.
Pallets can be an exciting material to work with. They appeal to our sense of adventure and creative spirit. They are easy to find and to work with for people at all skill levels. Best of all, they are a great source of eco-friendly material; great for our health and for the environment.  Written by Sally Writes.