How To Cultivate a Love of Nature in Young People and Children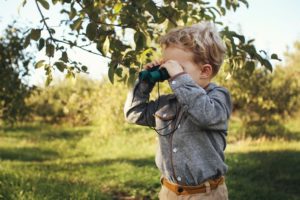 Most children have an innate love of nature and the great outdoors. However, as distracting as the digital age has become, that love for hillsides and rivers can sometimes be superseded by a love of smartphones and game consoles.
There's nothing wrong with kids who want to play video games in their free time.  But, as a parent, it's your job to cultivate a love and respect for nature as your child grows up. The children of today will make the environmental changes that we need tomorrow — but only if they learn to appreciate nature's beauty and necessity.
Volunteering
Volunteering together is a great way to raise responsible children. While volunteering, your child will develop a strong sense of purpose and will better understand their civic duties. There are plenty of environmental protection organizations that both you and your child can volunteer with regularly.
Consider signing your child up for a volunteer opportunity on Youth Climate Action Day. Every year, environmental protection organizations around the world ask young folks to volunteer some of their time to fight climate change. This may involve simple activities like community gardening, or more complex ones like collecting data to be presented to COP panels.
If you have young children, consider enrolling them in exciting volunteer projects that support the environment. Young children will enjoy after-school clubs that are centered around sustainability and will take pride in community clean-up efforts. Ask your local wildlife sanctuary or park service if they have any volunteer opportunities for children, as most organizations love getting kids involved in the process.
As your child gets older, you can encourage them to take on larger roles. If they're outdoors-y, they can register to volunteer with the National Parks Service (NPS). Older children can support public education and help maintain trailheads and campgrounds around the country. Teens and young adults can also volunteer as guides, and give tourists useful information as part of the NPS' "Trails and Rails" scheme.
Hiking Trips
Hiking is a great way to reconnect with nature and rekindle your child's love of the outdoors. While hiking, you'll have time to appreciate the sights that your state has to offer. Hiking together can be a great time for bonding, too, as there won't be any technology or work commitments that get in the way.
To reap these benefits, plan your hiking trip together. Kids love getting out maps and will get a real buzz from planning the journey on a topographical map. Just be sure to choose a trail that is achievable for you and your family, as there's nothing worse than hiking too far for too long.
Ensure that your hike is a success by preparing for anything. The forecast may be bright and sunny when you set out, but you should still pack some raincoats in the car just in case. Likewise, keep a first aid kit close at hand just in case someone rolls an ankle while hiking.
During your hike, take rest stops to keep everyone's spirits high. Pack some nutritional snacks for this time, as younger children will need more food than you might expect. Allow older children to take the lead during your hike, but keep a tab on them to ensure you are still headed in the right direction.
Try to research the area you are hiking in before you make your visit, and learn a few facts about the flora and fauna. Some well-timed information can pique children's interest and help cultivate a love of nature.
Nature and Health
Getting outside and learning about sustainability is wonderful for children's physical and mental health. Exploring the great outdoors can raise your child's energy and help them beat the post-school lethargic slump that usually draws them towards game consoles. Even short bursts of aerobic exercise — like going for a walk in a local park — can help your child feel refreshed and re-energized.
From a mental health perspective, nature can lend a guiding hand for your kids as well. Recent research suggests that children who grow up around green spaces are less likely to suffer from depression and anxiety as they grow older, too. As a parent, you can help build a connection between nature and positive feelings by planning fun trips out of the city a few times a month.
Ask your child how they feel when exploring nature and give them space to relax and explore on their own. This can give your child a sense of freedom and allows them to explore greenspaces at their own pace. If your child finds it difficult to relax while outside, consider completing a short mindfulness exercise together. This can calm your child down and help them appreciate all that nature has to offer.
Conclusion
As an eco-conscious parent, you want to raise a child who loves and respects nature. However, many children struggle to understand the wider implications of climate change or the role they play in preventing it. You can help cultivate a love of nature in your children by signing up for volunteer efforts together and exploring the great outdoors in your free time. This will instill a sense of environmental stewardship in your child and ensure that they grow up to become climate-conscious citizens.