How to Prioritize Employee Health During Office Renovations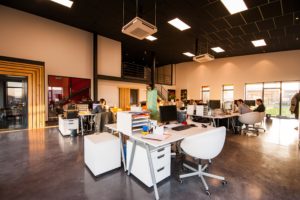 Office renovations are essential to update the space and add a fresh look. However, when it comes to improvement ideas, employees' well-being should be at the top of the list. Employees who are happier at work are more likely to be more productive. Here are some ways to incorporate employee health into your office remodel.  

Add Nature Into Your Design Plan 
Adding plants and access to natural light can help employees feel more relaxed. It can also lower their heart rate reducing stress and anxiety. Looking at nature can refocus their attention leading to more creative ideas. 
Here are some other ways to bring nature into the workplace:
Paint walls green or blue

Incorporate wooden furniture 

Hang nature-based artwork 

Add a fish tank
Create a Feeling of Home
People have adapted to working remotely, so they want a comfortable office space to return to. In 2020, about 27% of employees worked remotely, more than half the time. Consider adding softer textures, more cozy seatings, and high-quality lighting. Feeling more relaxed can increase staff productivity. 
Also, think about adding some touches of color or artwork on the walls to make the space feel more inviting. You can even use color from your business's logo to increase company branding. 
Keep in Mind the Buildings Systems  
When it comes to redesigning your space, it's not just about aesthetics. Consider updating your HVAC system, lighting, and acoustics. Having a functioning HVAC system keeps your employees cool during the summer and warm in the winter. This allows them to work more efficiently. 
Proper lighting and acoustics are important to keep workers focused throughout the day. Increase the number of windows in conference rooms to improve natural lighting. Also, consider using sound-absorbent material, such as acoustic foam to reduce noise distractions.
Implement Clear Public and Private Spaces 
Having a mix of public and private spaces accommodates multiple working styles. Some people prefer solitude when working, and others may need more interaction. So, having designated areas for each can increase workflow. It can also give employees a place to de-stress in private. 
Allocate Spaces for Amenities 
Think beyond desks and cubicles when remodeling your office. Consider what types of amenities will enhance employees' satisfaction at work. For example, you could include a kitchen. This space can promote social interaction and give workers a place to take a break. 
Within the kitchen, consider adding energy-efficient appliances. This can help save you money while helping the environment. 
Here are some other workplace amenities to consider adding to your renovation: 
Onsite gym

Wellness areas

Bike Storage 

Private Phone

Child Care
How to Keep Employees Safe During the Construction Process
Making design decisions based on your employee's health and well-being is critical. It's also important to keep in mind your staff's health during the makeover process. Here are some tips to consider.
Come up With a Safety Plan 
Before starting the process, make sure you have a safety plan already in place. It should follow the Occupational Safety and Health Administration Guidelines (OSHA). Within the plan, decide who will supervise the project, the project owner, and the general contractor.
Also, keep in mind the construction process can give off Volatile Organic Compounds(VOCs) or odors. These can lower the indoor air quality making employees sick. So, have proper safety measures in place. You may have to let employees work from home or designate specific areas for client meetings. 
Make Room for the Remodel
During the renovation process, remove any clutter and only keep essential items. Consider hiring a waste removal service to dispose of the extra clutter. You will also need to find a temporary storage space to hold your things. Having a clear office space reduces the risk of fall injuries. 
Consider How Critical Spaces Will Be Impacted 
During the remodeling process, you will have space constraints and limited occupancy. This can impact office workflow. Come up with a place to determine how employees can safely access key areas, such as client conference rooms. 
Keeping Employee Health in Mind During Renovations
When it comes to remodeling your office space, it's more than just a few upgrades. Keeping your employees happy and healthy should be a top priority during the process. Consider these tips for a successful renovation project. 
Author Bio: Jane works as the founder and editor-in-chief of Environment.co where she covers environmental news and sustainable living tips.