How to recycle your mattress
Information provided by Best Mattress Reviews: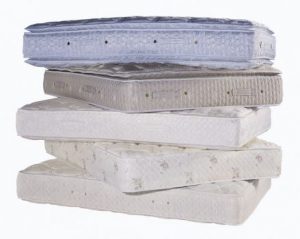 Every year, less than 1% of used mattresses are recycled and nearly 20 million mattresses end up in junkyards all over the United States. Mattresses do not compact as well as regular garbage, and can create dangerous holes in landfills. However, well over 80% of the materials in a used mattress are recyclable, including steel, polyurethane foam, natural and synthetic fibers.
Steel
Steel is the largest component of the average mattress, making up nearly 25 pounds of the total weight of an innerspring or coil mattress. There are steel recycling facilities all over the US, making this the easiest mattress component to recycle. Once removed from a mattress, steel can be melted down and reused to make something new. The most difficult aspect of recycling steel mattress springs is compacting them enough to transport them to a steel recycling center.
Wood
Wood forms the base of many mattresses, and can be chipped into mulch or pulped for paper production. Recycling wood has the added benefit of reducing the need to cut down new trees.
Polyurethane foam
Polyurethane foam is also fairly simple to recycle, and makes up a large portion of many mattresses. To recycle polyurethane foam, recycling companies shred the foam into tiny pieces and then compress it. There is a high demand for recycled foam from carpet manufacturers, who use it to create carpet padding. It can also be used in exercise equipment and car seats, or any other application that requires dense foam.
Natural & synthetic fibers
Natural and synthetic fibers, like cotton and polyester, make up the exterior of almost every mattress on the market. To recycle cotton and other natural fibers, they are first cleaned and shredded, and then respun to make yarn that can be used to create other textiles. To recycle polyester and other synthetic fibers, they are shredded and granulated into "chips", which are then melted and used to create new textiles. The applications for recycled fibers are endless, and include everything from shower curtains to graduation gowns to new mattress covers. Recycled polyester is also very commonly used in the clothing and fashion industry.
There are around several services nationwide that dismantle old mattresses for recycling, but not all of them are not accessible to the everyday consumer. While it's not (yet) as simple as aluminum cans, it's easier than ever to recycle your old mattress. The following services are dedicated to helping consumers find a recycling service center near them that will recycle their old mattress:
Prepare to pay between $20 and $40 per mattress if you arrange for a mattress recycle center pick up, or between $10 and $20 per mattress if you're able to drop off the mattresses yourself. Keep in mind that while broken and torn mattresses can usually be recycled, mattresses that are wet, stained, or bug infested are generally not acceptable.
How to donate your mattress
There are a number of ways to donate your mattress. Donating your mattress to a charitable organization also gives you the opportunity to deduct the fair market value of your old mattress from your taxes. To determine fair market value of furniture, try using the Salvation Army's Donation Valuation Guide. Expect the estimated value to be between $10 and $75 dollars, depending on the size of the mattress.
National and local charities will pick up furniture donations, including used mattresses, directly from your house for free, but most require your mattress to be clean and in good condition. Here are a few options for you to consider:
Where to donate nationally
Many national organizations are willing to pick up furniture donations at your home. They will provide you a receipt for your donation, which you will need if you are audited by the IRS. The following charitable organizations accept donated mattresses:
The Salvation Army is another national charity that accepts furniture donations and allows you to schedule a free pickup, however, they will not often accept mattresses. To find out if the Salvation Army near you will take your mattress, contact your local chapter.
You can also post your old mattress on The Freecycle Network or FreeSharing, which gives one of your friends or neighbors the opportunity to find a new mattress for free, as long as they're willing to pick it up.
Where to donate locally
Regardless of where you live, there is probably a local charity near you accepting furniture and mattress donations to help people in your community. As these operations are not necessarily as well organized or well funded as nationally run nonprofits, you should contact them in advance to confirm they can provide you a receipt for tax purposes. Here a few local options to consider:
How to dispose of your mattress
If your mattress is unsalvageable or stained, or if you don't live close enough to a donation or recycling center, you might need to hire a junk removal company to haul your old mattress away. But before you schedule a pick up, check your mattress warranty. Some sellers and manufacturers offer free buy-back or disposal services.
If you prefer to hire locally, Thumbtack is a service that will connect you to local professionals who will bid on your junk removal job. They serve all counties in the US. If you live in a major city in the United States or Canada, you can also try 1-800-Got-Junk or JunkKing.
If you've got more than just one mattress to remove, you may be able to negotiate a better deal, but expect to pay around $80 for each mattress you need hauled away by a junk removal company. Some companies charge a per-item fee while others charge by weight. Depending on the company you go with, you may also be charged a pickup fee.
How to repurpose your mattress
Before you donate or trash your old mattress, consider if it's worth repurposing. In some cases, you may only need a new foundation or a topper to add a few more years of life to your mattress.
If your mattress has begun to feel more like a hammock, a topper won't cut it and it's time for a new bed. But if your mattress is still relatively firm with no dips or indentations, a memory foam or latex foam topper could improve the comfort of your aging mattress for a fraction of the cost of a new one. Foam toppers are typically sold in 1 inch increments up to 4 inches, and most sleepers would do well with a topper between 2 and 3 inches thick. Sleepers over 230 pounds should look for a 4 inch topper to provide them with adequate spinal support.
If your mattress is sagging in the middle, sometimes a foundation adjustment is all you need to correct the problem. A board of ¼ to ½ inch thick plywood can be placed between the mattress and the existing foundation to reduce sagging, but if the sagging is really pronounced, you're better off purchasing a new mattress with a solid foundation.
The following table details common mattress problems and some possible fixes for each:
| Mattress sagging | Mattress too firm | Mattress too soft or unsupportive   |
| --- | --- | --- |
| Check foundation for dips or bowing. | Add a mattress topper. | Rotate mattress. |
| Donate or recycle the mattress. | | Adjust foundation, add a plywood board layer between the mattress and the foundation. |
Creative ways to repurpose an old mattress
There are many ways to turn your old mattress into something new. The projects you can start depend primarily on the type of mattress you have to repurpose. You may even be able to repurpose individual components.
For example, do you have an old spring mattress or boxspring? You could turn the springs into a photo display or a plant stand. If you don't want to spend time separating the springs into smaller components, you could use the entire stripped-down box spring as support for vine-growing plants, or as a jewelry holder or bulletin board. The old box spring in this photo was stripped down, strung with outdoor lights, and hung as a room divider.
Mattresses are made of more than just springs, and if you don't want to bother with taking a mattress apart, there are still ways to repurpose it. For example, you could turn a crib mattress into an ottoman, or a twin or full sized mattress into a couch. If you have a memory foam mattress with no springs or coils, you could cut it up into chair cushions or make a cozy bed for your pets.
How to resell your mattress
If you want to turn your old mattress into a little extra cash, consider selling it. In order to sell it for the best price possible, you ought to have it professionally cleaned first. This should cost less than $100 depending on the cleaning service you choose and the condition of the mattress. If you're not willing to fork over the cash for something you plan to sell, at the very least, clean it yourself. Once you're ready to list your mattress, you can post it on a site like craigslist or OfferUp, or you could advertise it in a local buy/sell/trade Facebook group. When you post your advertisement, you should provide a description of the mattress that includes the brand, size, firmness, and any other noteable features, and you should also include how much you paid for it. Don't expect to get nearly the same amount, but providing this information builds legitimacy and might increase the likelihood someone will pay more for your used mattress. Keep in mind that the value of a used mattress is highly subjective, and a even a pristine king-sized mattress with all the bells and whistles will probably not sell for more than $200.
Before you post your mattress online, you should also check your local laws to make sure that selling your used mattress is legal where you live. States like Massachusetts have strict laws regarding the sale of upholstery and bedding, and you're better safe than sorry.