Is it Possible to Build an Accessible and Sustainable Living Space?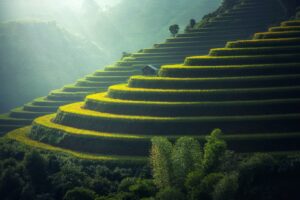 Demand for living spaces is increasing given an upward trend in population growth and migration patterns, to name some factors. Sustainability in real estate development is more important than ever if the world is going to reduce its carbon footprint and decrease environmental degradation. Therefore, using renewable and recyclable building materials as well as applying systems and tech to reduce waste and energy are focal strategies. Accessibility is also another component that must be included so that a sustainable living space is easy to get in and out irrespective of capabilities. Here's how to strike a balance between a green home and an accessible area.
Friendly Design
The design of a structure matters a lot because it defines how spaces are going to be used and the materials that are essential in construction. Thus, at the onset, the scheme must include defining spaces that will improve the comfort and health of occupants. In this regard, the design will also include the needs of users that have varying levels of impairments. Accessibility and inclusion are vital to ensure that a structure is operable and useful. In addition, a crucial objective of the design is to reduce the consumption of finite resources minimizing waste.
Furthermore, accessibility is not only applicable within a home or structure. It also involves the area around a building. For example, parking spaces represent areas that are often overlooked when it comes to accessibility. But, the truth of the matter is, it is also a place where people with infirmities use not only as a passenger, but also as a driver. Hence, it is vital that they are easy to get in and out. From ensuring wide spaces that meet the disability criteria to putting up ramps, paths, rails, and good lighting, accessible parking can be developed using sustainable materials such as natural grass, stone pavers, or recycled concrete. Sensors and lighting controls optimize energy use while solar energy enhances efficiency instead of relying on grid electricity.
Technology Use
Indoors, improved accessibility and resource use also make use of technology that minimizes the impact on the environment while ensuring the renewability of resources. To illustrate, hands free faucets, tankless toilets, and aerating shower heads save water and energy enormously. Those with disabilities will find it easy to navigate bathrooms with curbless showers, automatic lights, grab bars, wide doors, and rails. Earth-friendly materials such as bamboo, porcelain, reclaimed steel and wood may be used without adding pressure on non-renewables.
Moreover, data gathered and analyzed using artificial intelligence (AI) not only assists in creating the best use of resources, but it also offers designs that use technology to meet the needs of individuals with handicap. In addition to improved energy efficiency, a home that is interactive, smart, sustainable, and accessible has a lower carbon footprint.
It is possible to create a house, building, or structure that is green and accessible. A good design uses technology for efficient resource use, incorporates the requirements of people with infirmity, and utilizes eco-friendly or renewable building materials.