Simple Steps Towards An Eco-friendly Office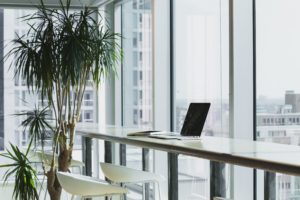 An eco-friendly office is not just a buzzword but more of a vital need of the times. Since our planetary resources are finite and rapidly becoming exhausted, it is necessary to create workspaces that reflect both sustainability and an eco-friendly environment. Let us see how we can go about creating an office that has the smallest ecological footprint possible.
Stop unnecessary use of printing, plastic cups, and other disposable items
You should create an environment in your office where printing stuff at random is kept to a bare minimum. In fact, you should actively discourage your staff from printing paper documents whenever possible. You should also try to cut down significantly on taking printouts, at the drop of a hat. You can save paper and the thousands of trees required to produce it by going into full-on digital mode. In lieu of sending paper notifications to the workstations of all the staffers, you may consider making the requirement announcements via emails, or alternately, switching to the LAN or the cloud.
You can also swap plastic cups from the office cafeteria and replace them with washable ceramic and glass cups and plates. This may seem like a very small gesture, but if enough people get involved, it will end up having a significant impact on the environment as a whole. There are usually 220-230 working days per annum. If you drink two cups of coffee every day then changing a disposable cup and stirrer for a reusable one will mean saving roughly 500 cups per annum. Much the same goes for paper and plastic plates as well.
Motion-activated power switches
Improving energy efficiency is one of the best ways of saving the environment and becoming an ecologically conscious company. The IoT (internet of things) has come a long way since its inception and now you can easily switch to motion-activated power and light switches that will automatically switch off once there is no one in the room. This will not only help conserve power and lead to smaller power bills but also help save the overall environment. Such switches can be used in the cafeterias and canteens, in the conference rooms and even in the main office. This way you won't need to remember to shut off the lights and HVAC system once everyone has gone home. The IoT will do the needful.
Go green with your office supplies
Green supplies are different from their regular counterparts in the sense that they are non-toxic and their construction doesn't damage the environment. They can help turn your office space into an environment-friendly place. You can opt for 100% recyclable binders as well as recycled paper and other products for all of your sticky notes and printer paper. You can also use recycled paper napkins, towels, and tissues in your workplace.
Decorate your office with real live plants
Many researchers have consistently revealed that live plants can significantly lower workplace stress even as they enhance productivity. A bunch of houseplants will not only look very good, but they will also improve the air quality in your workplace. This is because many plants have the ability to act as natural air purifiers and rid them of carbon dioxide and other airborne pollutants. Some of the more popular office plants include English Ivy, Bamboo Palms, Peace Lilies, and Spider plants. These and several other plants will give your office a more natural look and also clean the air around them while creating a calm and soothing environment for everyone.
Using coworking spaces is a great way of helping the environment. It will also be great for mental wellbeing when you need to change the environment around you. You can use coworking spaces in Los Angeles for both of these purposes. Coworking spaces help to centralize the use of valuable resources and thus reduce the need for excess resources such as power, fuel, and stationary. They will also help you to focus on your work even as you meet new people and increase your social circle.
We should all do our part in protecting the environment by working in a co-working space and saving valuable resources by using recyclable products.