Sustainable Fall Activities to Celebrate the Earth This Season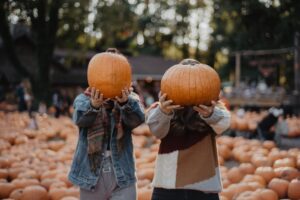 Fall is the most fun time of the year because of all the changes you can see. Each day, there may be something new to celebrate outside your window. One of the best ways to embrace the season of change is to celebrate the Earth as it is without adding to your household waste or spending recklessly.
1. Hike Responsibly
Hiking and visiting National Parks are free ways to celebrate the changing of the seasons right in your home state. Locate a trail near your home, prepare for a day out — including packing snacks or a picnic — and enjoy nature to its fullest.
Remember to obey the local laws wherever you're hiking. You should also pay attention to extreme weather warnings, as the parks may close off specific paths. Ultimately, leave anything you find in the parks — you don't need to take a souvenir back home. If you respect nature, you'll have more fun enjoying the changing of the seasons each year.
2. Visit a Pumpkin Patch
If it's within your budget, consider visiting a pumpkin patch, and picking out one or two pumpkins for your family. Whether you decorate them or roast the seeds, you can ensure the pumpkin doesn't go to waste.
For example, help your kids create their first Jack-o-lantern that can light up your front porch throughout the Halloween season. Alternatively, a pumpkin might be a lovely decoration for your late fall porch setup.
3. Visit a Farm
Your local farms might have fall celebrations for a small fee that supports the farmer and their family. You and your loved ones might enjoy hay rides, or feeding and petting livestock. It could also be an educational visit, where you can learn more about where your local crops come from.
Alternatively, you can visit a farmers market to keep farmers and artisans in your area in business. They often work hard to provide customers with a worthwhile experience. Plus, you can be sure the products you get there were made by hand or grown organically.
4. Support the Local Economy
Search for things you can do nearby. Thankfully, most things in your community could be budget-friendly or free. For example, you can take your household out to a fall football game to support the local high school. Doing so could put money toward the school while giving you something fun to do on a Friday night.
5. Go Sightseeing
If you can take a vacation, you may want to travel to see the full sights of fall, especially if you live in a warmer climate that doesn't transform much. Many of the states up north feature great opportunities to watch the leaves burst into reds and oranges.
Consider road-tripping with your household to a small town. You'll enjoy the best views there while giving back to the local economy.
6. Clean Up a Highway
Volunteering can give you a sense of purpose, considering how you're helping other people or the environment. One way to celebrate the changing of the seasons is to protect nature itself.
You and some friends can pick up litter in a neglected area of your city. By cleaning up, you'll make the space more beautiful and save the wildlife who might otherwise ingest the trash.
7. Bathe in Nature
By simply spending time in nature, you're "bathing" in the woods, reaping all the benefits of being surrounded by flora and fauna. Forest bathing can boost your immunity for up to a month — all you have to do is be outdoors.
Something as easy as reading a book or having a picnic can vastly transform how you look at the world around you. It might even ease symptoms of anxiety or depression, which can feel heavier during the darker half of the year.
8. Plant a Tree
Trees can better your water and air quality, and create shade around your home to help you in the warmer months of the year. Since the weather cools down in fall, it's the perfect time for outdoor labor and beautifying your space. You could have beautiful trees blocking the harsh sun from your home in just a few years.
Celebrate Fall in Your Own Way
Now that the weather's cooler, it's the best time to get outside and have fun before winter activities make it a bit more challenging. Find out your favorite part of fall and figure out a way to celebrate it.
If you enjoy having fun, search for a local adventure. Simply sitting by and watching nature turn can also benefit your mental and physical health. Consider creating a bucket list to get all your ideas straight — then challenge yourself to accomplish everything as soon as possible.