The Benefits Sustainable Environments Have on Employees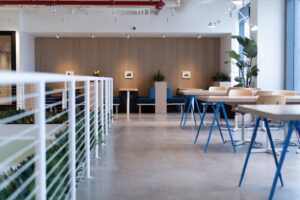 Sustainable work environments are spaces designed with the planet and people in mind. They incorporate eco-friendly practices — like energy efficiency, waste reduction and natural elements — to create a healthy and productive workspace. These green initiatives include everything from energy-saving lighting to indoor plants that purify the air.
There's a growing trend of companies shifting toward these sustainable practices, and it's not just for PR points. Businesses realize that making the office greener reduces their carbon footprint and has tangible employee benefits.
1.   Increased Productivity
Sunlight provides a spectrum of colors that help regulate your body's internal clock. It can lead to improved sleep quality and better focus during work hours. Plus, natural light reduces eye strain and mental fatigue, helping you stay energized throughout the day.
A well-ventilated workspace with clean air can make a huge difference in how your brain functions. Poor air quality can lead to what's known as "sick building syndrome," with symptoms like headaches and drowsiness that impact cognitive abilities.
Fresh air is rich in oxygen, which your brain needs to function at its best. Something as simple as opening a window or adding air-purifying plants to your workspace could boost concentration and problem-solving skills.
2.   Improved Mental Health
Plants and green spaces in a work environment are natural stress-relievers. The mere presence of plants has a calming effect on the mind, almost as if you're taking a mini-break to reconnect with nature. Some studies even suggest that looking at greenery can lower cortisol levels, the body's primary stress hormone.
A peaceful workspace with plants, nature sounds or a small water feature can help you shift into a more relaxed state. Lowering your stress levels makes you feel better emotionally and enhances your ability to focus and approach tasks with a clearer mindset.
3.   Enhanced Job Satisfaction
Knowing your company is committed to reducing its carbon footprint or supporting eco-friendly initiatives instills a sense of pride. It enhances your overall job satisfaction, and you're more engaged, motivated and committed when you see your values reflected in your workplace.
A strong sustainability program also gives the company a better image. It attracts top talent who want to work for a socially responsible employer and appeals to consumers who prefer to engage with eco-conscious brands.
4.   Greater Creativity and Innovation
A clean, natural work environment is consequential in eliminating distractions. Without clutter or disruptive elements, your mind can focus on what truly matters. Think of it as a blank canvas where your thoughts and ideas can freely flow without bumping into mental obstacles like stress or discomfort.
This kind of distraction-free setting is fertile ground for creative thinking. In a calm, nature-inspired space, your mind is more likely to wander into innovative ideas and problem-solving strategies. Thinking outside the box is more manageable when not confined by physical clutter or a stuffy atmosphere.
5.   Cost Savings for Employees
Companies are increasingly offering incentives for carpooling or using public transport. Some offer subsidies for transit passes, while others have reward systems for employees who carpool. These incentives make your daily commute more eco-friendly and help you save money that would otherwise go into gas or parking fees.
In addition, the cost of living is often higher in downtown areas where many offices are. Saving money through carpooling and using reusable items can provide a financial cushion, making city living more manageable.
6.   Better Physical Health
Eco-friendly furniture often incorporates ergonomic design to reduce physical strain. Items like adjustable chairs and sit-stand desks can significantly alleviate back and neck issues. So, you're not just doing good for the planet but investing in your comfort and long-term health.
Nontoxic cleaning supplies can also be advantageous. Traditional cleaning agents often contain chemicals that irritate the skin, eyes and respiratory system. Nontoxic options are free from many harmful ingredients, making the air cleaner and safer.
7.   Boosts Team Morale
A team working together towards a common sustainability goal creates a strong sense of unity. Moreover, shared values and objectives bind people together. The collaboration required to meet sustainability targets encourages communication and builds mutual respect among team members.
Knowing that you're collectively making a positive impact on the planet fills you with a sense of accomplishment and purpose. This emotional payoff boosts morale and adds extra motivation to perform well in your role.
8.   Work-Life Balance
Policies like remote work are fantastic for the environment and employees. Working from home eliminates the need for daily commuting, leading to a reduced carbon footprint. No more sitting in traffic jams or spending time on crowded public transport means you're contributing less to air pollution.
The saved time from not commuting gives you precious extra hours in your day. This additional time can have a positive impact on your work-life balance. Whether spending more time with family, focusing on a hobby or catching some extra sleep, those hours can significantly enhance your quality of life.
9.   Employee Retention
When employees feel they're contributing to something meaningful — like sustainability efforts — their commitment to the company grows stronger. Knowing their work impacts the world positively provides extra motivation to stay with the company long-term.
Reduced turnover is a benefit for the companies as well. Recruitment and training are expensive and time-consuming processes. When employees stick around longer, the company saves money and resources they would otherwise spend on hiring and training new staff.
10.       Personal Development
Many companies offer sustainability training programs to help employees understand the importance of eco-friendly practices. These training sessions can cover everything from energy conservation to waste management. Engaging in such programs equips you with the knowledge to make a real difference at work and in your personal life.
The value of this training extends beyond your current role. The knowledge you gain is valuable for your personal and professional growth. You become more marketable as an eco-conscious employee and can apply these sustainable practices in your daily life, positively impacting your community.
The Lasting Impact of Sustainable Workspaces
Advocating for eco-friendly changes in your workspace can start with something as simple as suggesting reusable cups or carpooling incentives at the next team meeting. You don't have to wait for company-wide reforms to start making a difference.
Small steps can significantly impact when multiplied by the number of people in your office. So, take the first step today. Whether bringing in a desk plant, setting up a recycling station or discussing remote work policies, your actions matter.