The Importance of Vegan-Friendly Interior Design — and How You Can Make a Change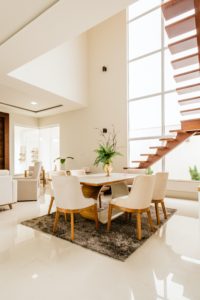 The number of Americans who identify as vegan has increased by 3,245% over the last 15 years, according to People for the Ethical Treatment of Animals (PETA). With one study estimating that at least 9.7 million people in the U.S. currently eat plant based, it's important to keep in mind that the definition of going vegan can extend well beyond a dietary change. From the value of vegan home design to how you can incorporate sustainable choices into your own home decor — and even understanding the extent of non-vegan choices, here's what you should keep in mind for the next time you're looking to redesign.
The value of vegan-friendly design
When looking into the importance of vegan-friendly interior design, it's important to understand the effect that non-vegan design choices can have. For example, the use of leather is a common design choice for many, PETA notes that cow-derived leather has "almost three times the negative environmental impact as its synthetic counterparts, including polyurethane (PU) leather." The consumption of fossil fuels, mass deforestation, animal cruelty, and even human health concerns that are involved with the production of leather are further examples of how animals and the environment can pay the price for such goods, leaving many to prioritize making eco-friendly choices when it comes to interior design.
In addition to the use of leather, there are a variety of other ways that interior design choices can have an impact on the environment as well. Risha Walden, the principal designer and owner of the New Jersey-based firm Walden Interiors, highlights the fact that clients and designers don't often think about the many different ways that animal products are used in design — whether it be down, which is sourced from ducks and geese, or even the glue that is used to construct furniture — which comes from an animal's skin. While shopping through a reputable eco-friendly or vegan furniture outlet can make for an easy way to navigate eco-friendly redesign, however, there are other aspects of home design that can make for additional considerations.
Extending veganism beyond textiles
The use of non-vegan textiles, whether it be fur, leather, or silk, all seem obvious in terms of However, in addition to the use of animal-derived furniture glue, surprising non-vegan interior design choices can be found in paint. While a fresh coat of paint can work to create a major change in a room on its own accord, it's important to realize that there are paints out there that use milk proteins in order to bind the formula together. Thankfully, there are vegan paint alternatives out there — with House and Garden pointing out the fact that the Duchess of Sussex actually used vegan paint in Archie's bedroom at Frogmore Cottage — an event that made headlines.
How you can make a change
When looking to incorporate vegan design into your own home, doing so yourself doesn't have to be challenging. Deborah DiMare, the interior designer behind DiMare Design Group, presents a variety of different ways that this can be done successfully. When looking for vegan friendly decorative pillows, for instance, DiMare notes that "Covers made from linen, bamboo, and organic cotton are healthier alternatives to leather and wool. They are free from harmful chemicals, vegan, and super soft." However, keeping vegan alternatives in mind for a variety of design choices in your home can apply to a variety of aspects as well, such as blankets, rugs, and printed fabrics.
For those who have pets in the home, choosing vegan materials that work best when it comes to surviving pet wear and tear is a must — especially when looking at pet friendly seating. While leather may not be an option, cotton may seem like the best alternative — though it can actually be rather weak when it comes to standing long term wear and tear. Instead, opting for more durable vegan fabrics, such as linen, can offer a much better animal-friendly solution that will ensure the longevity of your furniture. In addition to the material of the furniture itself, however, the color of the fabric can also determine how pet-friendly your new seating is — as darker colored material is typically more likely to put loose fur on display.
For those looking to redesign their home with veganism at the forefront of the mind, doing so successfully can be achieved through careful considerations. By ensuring the origins of your furniture and other home design choices (including the paint) in order to make sure there aren't any animal products present, you can effectively create an eco-conscious home.