Considerations for Starting a Sustainable Small Business in 2021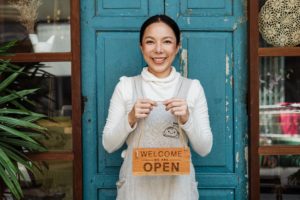 Sustainability is an important movement that is currently empowering better business. In fact, 98% of companies who used sustainability standards reported sales and marketing benefits.
Sustainable business drives not only a cleaner environment but improved marketing, efficiency, and public relations. All these factors make sustainable businesses better for communities and for your chances of achieving the success you seek.
The following considerations will help you form an exceptional plan for starting a small, sustainable business and making a difference in your community.
Creating a Sustainable Business Plan
Every small business starts with an idea. From there you can extrapolate your potential into a sustainable business model that will grow with your aspirations. In creating your business plan, it is essential to consider how your company will be able to maintain a commitment to sustainability even as you begin to expand. Various elements will affect this plan, but by breaking down and visualizing every step in the process, you'll be better prepared to incorporate sustainability.
One great way to go about building a sustainable business plan is to create a business model canvas. This is a template that functions as an organizational framework, and it can be instrumental in visualizing where you can incorporate greener practices. Business model canvases show information such as key resources, cost structure, and revenue streams so that you can easily analyze how something like recyclable materials might affect your net income.
Use a thorough business plan to plot the best path for sustainability for your small business.
Budget for Sustainable Investments
The next item to consider is how you can build your small business budget around your sustainability efforts. It's no secret that most small businesses begin with very little liquid capital with which to work. As a result, allotting any of your startup funds towards high-cost but energy-efficient equipment and materials may seem like an unrealistic stretch. However, this does not need to be the case.
In fact, there are plenty of things you can do on a budget to build a greener workforce. These include:
Going paperless
Adopting energy-efficient appliances and lighting in your home or office
Promoting a green education for any and all employees
Supporting a remote work policy
Committing to trade with sustainability-focused partners
Examine the options available to you and integrate them with your financial plans. You can use a cash flow calculator when planning your budget to examine how these sustainability features will impact costs long term.
As you budget, build your business model around sustainability investments that you know will add value to your venture.
Conserving Energy Use
Among the many potential green investments you may consider in starting your small business are the ways you can save energy.
In the modern era, remote work is increasingly common. This may be a great opportunity to save on costs and energy usage demanded by commercial office space. Additionally, a host of green innovations are out there that can help you cut down on your utilities bill — at home or at the office.
For example, sustainable heating options for your workplace range from pellet stoves to solar energy. Appliances, building materials, use of natural light, and more can all play a role in conserving energy use for a small business.
When choosing energy-efficient products, be sure to conduct thorough research, however. The right microstructures in the back of a solar cell can increase energy efficiency by nearly 20%. Your energy investments should give you the maximum return.
Sourcing Green Products and Services
Another great and cost-effective method of running a sustainable business is to partner with vendors, retailers, and other suppliers that have shown a dedication to sustainability. These days, companies across industries are increasingly realizing the importance of sustainability in both ethical and economic terms. As a result, you will be able to find a variety of suppliers who have committed to their own sustainable practices.
Sustainable sourcing is the process of selecting suppliers with social, ethical, and environmental concerns. Doing so not only looks good to your customers but can also lead to benefits like reduced costs, liability, and supply chain disruption. From vertical indoor farms built to conserve water to 3D printed parts constructed with renewable materials, there are plenty of green products and business models with which you can partner.
Seek out these collaborations to reinforce a supply chain of green practices. In turn, you'll find you can boost the performance of your small business as a whole.
Starting Sustainably
These are just a few ways you can consider beginning a small business built for sustainable growth. From your business model and budget to your vendors and partners, you can implement clean, energy-saving alternatives — oftentimes without even having to pay more. Sustainability is, after all, less costly in the long run. As you begin your small business, keep these considerations in mind.