How to Commute More Sustainably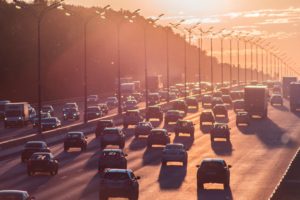 Commuting is a reality for nearly everyone. Whether it's to the store, work, or school, routine travels take a toll not only on our time but the planet. Climate change is a real threat that only continues to grow as each year passes.
Unfortunately, our commute times are only getting longer in the U.S. In places such as San Jose, California, the average commute time went up by 11 minutes from 2008 to 2017. The average commuter in San Jose increased their drive time by 47 hours a year going to and from places like work or school. Granted, some cities like Detroit, Michigan, and Las Vegas, Nevada saw a decline in commute times, but for the most part, commuting times have increased over the past 10 years.
As the workforce continues to grow and the need to reduce greenhouse gas emissions increases, it's essential to look for more ways to minimize the impact of commuting on the planet.
Embrace the New "Normal"
One factor that has caused traffic and commutes to be unlike previous years is the current COVID-19 pandemic. The sudden increase of the workforce working from home has led to some notable changes in people's everyday commutes.
Morning rush-hour congestion has decreased this year but interestingly, evening rush-hour traffic has not. Instead, the time people are spending commuting in the evening has shortened. This has certainly had a positive effect on the environment and is leading many to reimagine the typical work structure and transit operations.
Eliminating the need to commute to work completely, in industries where that is a possibility, would be one great sustainable solution to the growing issue of climate change. Numerous businesses have seen their employees learning how to be successful as they work remotely. With that in mind, making the transition to a mostly remote workforce isn't an absurd idea.
Not every job can be done from home, but the fewer cars, trucks, and buses on the roads, the better. Telecommuting has also been shown to be more cost-effective for companies, making it a win-win.
Finding the Right Route Forward
The consequences of mass commuting aren't just about increased greenhouse gas emissions. The cost of congested urban areas has actually affected industries such as trucking. With delayed deliveries, additional fuel consumption, and extended travel times, incidents like traffic jams end up impacting drivers and the supply chain.
When drivers can't hit their targeted delivery time, it also costs companies valuable revenue. That loss can directly affect drivers. Considering that the business of e-commerce only continues to grow, for fleet managers, it's worth finding solutions to get ahead of the increasing congestion as more and more trucks enter the road.
One solution that's been considered to improve the current trucking industry's situation is the utilization of technology — specifically route planning software. Installing more GPS fleet tracking devices into trucks can help reduce congestion. Drivers are able to access GPS maps with adaptable routes that can find real-time traffic conditions such as accidents or construction zones.
This helps drivers alter their route to one with less congestion and wait time, reducing their time on the road and thus their emissions. This technology can also provide better flexibility by showing more eco-friendly and cost-effective routes that drivers can edit into their routes as new jobs get added.
However, utilizing fleet tracking technology isn't the only thing that can help reduce congestion for truckers. Cities could install more truck-only lanes that bypass on- and off-ramps and adopt more smart-mobility initiatives that boost public transportation and carpooling. These modifications would also positively affect the commutes of those who are traveling non-commercially.
Commit to Change
Sustainability relies a lot on the power of choice. From the average Joe to major corporations, there are eco-friendly opportunities available every day that help reduce the damage done to planet Earth. However, having a more sustainable world also requires knowledge and education as much as choice.
It's essential that everyone do their part to reduce the impact on the planet. Many are familiar with eco-friendly changes such as going waste-free and switching to solar energy. But what else can be done?
In terms of commuting, a lot of the suggestions end at utilizing public transportation more often. Using public transportation isn't the only way to have a more sustainable routine though. Moreover, it can be discouraging to those who don't live in cities with accessible public transit.
Instead, looking at the big picture, one way to make commuting more sustainable long term is by making the location of our homes a priority. More specifically, the drive time to work, access to public transportation, and nearby roads should be factored in when you're house hunting. It might require a lot more planning and work to find the right location, but it will make the commitment to a sustainable commute a lot easier. When the choice is easy, who wouldn't take it?
As it stands, the United States Environmental Protection Agency reports transportation as the largest contributor to greenhouse gas emissions. As global warming continues to threaten planet Earth it's important to reflect on how the actions and choices we make contribute to the issue. Considering how damaging long commute times can be, adopting a more sustainable commute, finding environmentally friendly alternatives, and enacting change can help reduce our toll on the environment and keep the future green.