Multipurpose Living: A Giant Leap for Sustainability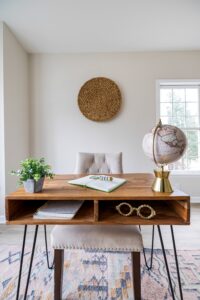 Multipurpose homes are one of the hottest trends on the current decor scene, as determined by Better Homes and Gardens, Elle Decor, and other leading home publications. The events of 2020 lead to a radical shift in the way people see and use their homes. It is predicted that around 36.2 million Americans will be working from home by 2025, meaning that homes now have to encompass offices as well as living spaces. Meanwhile, the boom in gaming and live-streamed series and movies means that most dwellers are also seeing their homes as their main entertainment and socialization zone. Multipurpose living has another added benefit: sustainability. Reducing the space families need to live, work, and enjoy themselves also results in the saving of resources and energy. As such, creating multi-use spaces in one's home can play an important role in lowering the collective carbon footprint.
Reducing Consumerism
Imagine a sofa that doubles up as a bed, a coffee table containing storage space, or a bookcase that also serves as a fold-down table. It would go a long way towards battling excessive consumerism. Every single furniture piece that goes into a home—from footstools to headboards—has a carbon footprint. The average furniture item consumes approximately 47kg of CO2e, which is the equivalent to 5.3 gallons of consumed gasoline. By reducing the number of items you buy, you not only lessen the size of your carbon footprint, but also do your share to stop landfills from ending up with piles of unwanted items.
Making it Stylish
If the multipurpose movement is proving one thing, it is that you don't need to splash out on a plethora of items to create an uber-chic, sustainable space! Interior designers have long used stylish multipurpose furniture items to jazz up small apartments, studios, and tiny homes. Top items that abound in small home magazines include the "office in a cupboard" concept, in which cabinets and alcoves can double up as foldaway desks. Or what about modular furniture such as the 3MOODS line from 2014 by Spanish firm, Unamo? This collection featured items such as modular sofa beds that transformed into a chaise lounge with a side table, or into a table with bench seats. Today, everyday brands are creating similar pieces that serve multiple purposes while taking up very little space in a typical living room/home office setup.
Making it Work
If more than one family member is using a common space as a work or study environment, there are easy ways to ensure that everyone feels they can work independently, with minimal distraction. For instance, items such as shelves or folding screens can be used during working hours and simply lifted and place in another spot when home dwellers are ready to spend time together. Makeshift separators have the added bonus of reducing the need for separate light, heating, and cooling. If family members work in the same room, they can avail of natural light and (during cold or hot months) and use a single heating or cooling device.
Smaller Constructions
Over time, multipurpose living will not only impact existing home structures, but also influence the size of true homes. Because they demonstrate the utility of using one space for different purposes, they open up the possibility of homes involving reduced construction and maintenance costs. In the 2009 book Sustainable Energy—Without the Hot Air, British physicist David MacKay added up all the materials in a typical three-story home, and found that its construction would produce around 16 tons of carbon dioxide. Smaller homes require much fewer materials to build and also far less energy to maintain. Heating an average house generates around 8,000 pounds of CO2 per year. This is 4 times the total amount of CO2 emitted by a tiny home.
Think of a home in which the most popular meeting point for dwellers—the living room—was also a workspace, games room, resting spot, and TV room. Imagine the small number of rooms an average home would actually need for dwellers to feel comfortable and entertained. Multipurpose spaces, coupled with multiuse furniture, are an excellent addition to the green lifestyle. What's more, to hop on this trend, you don't have to sacrifice an iota of sophistication or style.