The Increasing Value of Green for Residential Real Estate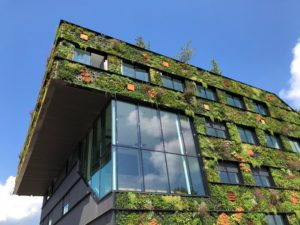 According to a National Association of Realtors 2022 study, the number of realtors involved in the buying or selling of a property that features green improvements has shot up significantly in the past year.
The Realtors and Sustainability study surveyed a random sample of 46,452 realtors across the country regarding sustainability and the related issues that the real estate industry currently faces. 
Around half of the brokers and agents surveyed reported being involved in the buying or selling of property with green features in the past year – a significant increase from 32% in 2021. 
Going green in real estate 
Other key insights from the Realtors and Sustainability study regarding the increasing value of green for residential real estate include:
63% of respondents reported that the promotion of energy-efficient features in property listings was somewhat or very valuable

51% said that their clients were either somewhat or very interested in sustainability

35% reported that green data fields feature in the multiple listing service (MLS) they use

Of the MLS reportedly featuring green data fields, the primary uses were to promote green property features (35%), to provide a property's energy information (24%), and to include

green

certifications (13%)

77% of realtors reported that their market includes available properties featuring rooftop solar panels (of these, the figures were highest in the West and the Northeast, with 89% and 86% respectively)

36% of respondents said that solar panels increased the perceived value of a property (while 30% said that they hadn't noticed any effect)
Leslie Rouda Smith, President of NAR, says. 'Sustainability continues to play a growing role in consumers' purchasing decisions, and this is becoming even more prevalent in the real estate market. With the residential property market, in particular, home buyers have expressed increased interest in eco-friendly factors like solar panels and energy efficiency.' 
Climate change making realtors nervous
NAR's report also uncovered an increasing anxiety being felt amongst realtors regarding the effect that climate change and the potential for extreme weather events can have on their business. A significant 34% reported feeling somewhat or very concerned regarding the impact that an extreme weather event could have on the property market. Despite a handful of states still offering cheap US housing options, many areas are still under the stress of limited supply and increasing demand after the pandemic, so naturally, any threat to ongoing stability is of concern, and this includes extreme weather events. 
According to NAR vice president (demographics and behavioral insights), Jessica Lautz, an increase in the number of sustainable homes benefits homeowners in multiple ways, such as healthier indoor air quality, increased comfort, and money saved from running a more energy efficient house. The potential for an increase in resale value was also noted. 
'The increased focus on sustainability in recent years is a win-win for all homeowners,' Lautz said. 
The push for the property market to become more sustainable
From significant tech advancements to changing regulations and mounting consumer and investor demands, the real estate industry is under increasing pressure to become more sustainable. 
According to Deloitte's 2022 report on real estate predictions and the value of green buildings, many factors are combining to ensure that the real estate market continues to evolve towards greener standards, including:
Green construction – construction and real estate sectors are being challenged to continually improve their environmentally friendly processes, as the overall market trend towards sustainability impacts many sectors of the economy, such as manufacturing, consumer goods, and more. 
In this way, the sustainability wins far exceed the construction process itself, with the completed building continuing to have a reduced environmental impact for as long as it stands. 
Regulations – Higher standards are being demanded of developers and property owners, with new regulations coming into effect all the time. Now, all European countries are on track for tighter regulations regarding sustainable construction practices, and the US is certainly following suit. Many US Cities are setting ambitious green building policies to combat the impact that the construction industry has on the environment.
Consumer (and investor) preferences – The shift towards reducing the real estate industry's environmental footprint is also being driven by the demands and preferences of consumers and property investors. According to a 2021 American National Association of Homebuilders survey, most buyers prefer properties with green features, and, on average, they are willing to pay more for homes that are certified as green for improved health and cost savings. 
Green start-ups – As the industry increasingly goes more green, many start-ups are emerging that focus on greener solutions in many fields, many of which are tech-based. Examples include Environmentally-friendly and sustainable architecture, increased adoption of automation and robotics, and industrialized construction, such as prefabricated and modular-based home builds.
Leading energy-efficient improvements
According to a study conducted by the National Association of Homebuilders, energy efficient features are one of the top priorities for home buyers today. The survey reported that:
83% of home buyers prefer Energy Star-rated windows (73% preferring triple-pane insulating glass)

81% of home buyers prefer Energy Star-rated appliances

80% of home buyers prefer energy-efficient lighting

79% of home buyers desire Energy Star rating for the entire home
The study reported that the primary drivers for buyers preferring sustainable property features are the potential for utility cost-savings. The Biden administration has introduced a climate and clean energy incentives package and, in conjunction with the US Department of Energy, is working towards the goal of 100% clean power by 2035, and net-zero emissions by 2050. 
The future is green
With so much emphasis being put upon the need for increased sustainability and environmentally-friendly practices across multiple industries and economies, it's no wonder that the real estate market is becoming increasingly impacted. The demand for green features is growing rapidly and will continue to do so, as more and more consumers see the immense value in them and are willing to pay a premium for them.