Why Fort Collins is Adopting Green Leases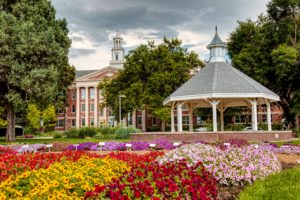 Fort Collins, Colorado, received recognition for its plan to become carbon neutral by 2050. Part of that plan is for the city to adopt green leases. This measure encourages landlords and tenants to reduce energy consumption, invest in energy efficiency, and save money while being sustainable.
Why is the city pursuing this method of energy consumption reduction and restructuring? Let's take a closer look.
What are Green Leases?
Green leasing is a relatively new concept to many, but sustainability leaders have long embraced it as a way to highlight and prioritize the ways that energy consumption can be reduced in both residential and commercial buildings.
Commercial building owners and tenants often see a discrepancy in who benefits from energy-efficient upgrades. Green leases split the cost and benefits from energy efficiency in a way that encourages sustainability.
Green leases create lease agreements that promote:
Commitments by both landlord and tenant to reduce energy consumption in specific ways

Even splits and incentives for both parties to benefit from the sustainability efforts

Clear environmental data to understand energy use and sustainability change effects at various levels while also assessing lease goals
Though it can sound complicated, green leases are easy to work with. When upgrading a property, the terms added can be as simple as one or two sustainability measures, such as utilizing energy-efficient appliances. Even something as simple as setting temperature parameters is enough to make a lease greener.
Green Leases in Fort Collins
Leases can be an intimidating topic, so leaders of the green lease movement in Fort Collins have worked on introducing these leases gradually. There are 166,069 residents in Fort Collins, with a median age of 29.9, and 44.66% of those are renting. Those looking to live in Fort Collins are not unfamiliar with the city's efforts to become carbon neutral, but changing the types of leases used for commercial, multifamily, and residential properties is a big adjustment for many tenants.
The key in Fort Collins is highlighting the benefits of sustainability actions for the community, individual finances, and long-term economic recovery. In light of the pandemic, city leaders believe individuals may be inspired to take action for a safe, cleaner future.
Under the green lease model, commercial tenants in Ft. Collins ask for permission before doing upgrades so that the city can provide sustainability improvement guidance and support. Tenants adding solar panels, for example, may be able to offset the installation or disposal cost.
More than anything, the green leases in Ft. Collins enables the city to lower the overall barrier and legal issues that come with specific sustainability measures. Opening access to more sustainable practices, and encouraging those actions, can make a big difference.
Residential Green Leases
Early green lease provisions in Ft. Collins only applies to private and commercial tenants, but there are also many encouraging green leases in the residential sector. 
The city even highlights this sample Colorado residential lease agreement on its website.
Browning the sample lease, you'll find that it adds simple measures to encourage energy-friendly choices by both the landlord and tenant. Easy changes, such as adjusting what appliances are used, make a marked difference in energy consumption and costs. 
Sustainable actions are more accessible than many think.
Over time, Ft. Collins may continue to encourage the use of green leases as the reception of these leases by its residents and tenants becomes clearer. 
The Future with Green Leases in Fort Collins
Ft. Collins City Council plans to reduce gas emissions significantly by 2030 and reach carbon neutrality by 2050. To achieve those goals, the city will continue to use creative solutions like green leases to make sustainability the easy choice rather than a problematic barrier to climb.
Fort Collins homes may not yet be subject to these provisions, but we expect to see more changes in sustainability efforts over time.
Value Generation and Green Leases
In many ways, going green is more valuable than ever before, and the city of Ft. Collins may see changes in property value as energy-efficient choices become the norm.
How exactly do green leases lead to value generation? These are some of the significant ways this change occurs.
Limit energy consumption protects the environment and attracts concerned individuals.

Reduced utility bills save owners and tenants both money

Negotiated green leases create solid landlord-tenant relationships and communication frameworks

Required sustainability measures make corporate action easier to reach under many green leases

Public green leases alert society about your company's priorities and interest in protecting the environment

Buildings adopting green leases stand out from out-of-date counterparts

Tenants utilizing energy-efficient solutions see better productivity
A green lease can add value to a property in many ways while enhancing the community at large, and Ft. Collins knows it. Rather than forcing a significant, scary change on tenants, the city is working with tenants and landlords over time to encourage education and lifestyle changes rather than an attempt at quick fixes.